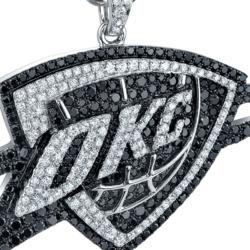 Thunder fans are among the most passionate fans in sports and their fandom extends far beyond anything we've ever seen
Oklahoma City, OK (PRWEB) July 18, 2012
The Oklahoma City Thunder's exciting run to The Finals has resulted in a 40 percent increase in sales at Mitchener-Farrand Jewelers for its collection of Thunder inspired jewelry created by Gameplan, an official licensee of the NBA. Additionally, social media traffic on Mitchener-Farrand's Facebook page has increased 30 percent.
The NBA jewelry collection features precious metals, diamonds, alternative metals and enamel and is available in handcrafted neckpieces and medallions of iconic logos for all 30 NBA teams. Prices start at $75 for the U.S.- made alternative metals, while the popular W Series Limited OKC Thunder NBA neckpiece retails at $10,000 and features 3.7 carats of black and white diamonds with a 30" gold chain.
"Thunder fans are among the most passionate fans in sports and their fandom extends far beyond anything we've ever seen," said Mark Mitchener at Mitchener-Farrand. "Thunder diamond jewelry sold out immediately as hundreds of customers and fans swarmed the store to show their excitement."
Mitchener-Farrand is located at 2844 West Wilshire at North May Avenue, in the heart of Oklahoma City, Oklahoma. The full service fine jewelry store features top brands including A. Jaffe, Bellari, JB Star, Simon G, Tissot, Foreverafter Diamond, Precision Set, Crown Ring and Hikari Pearls. For more information please call 405-842-4243 or visit MitchenerFarrand.com.