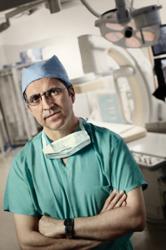 The amount of radiation anyone is exposed to for medical procedures should be controlled as much as possible.
Chicago, Ill. (PRWEB) July 18, 2012
Any exposure to radiation, no matter how small, has the potential of leading to future health issues, including many types of cancer, medical experts agree. Doing all you can to limit your lifetime radiation exposure should be a priority for patients and health care providers.
"The amount of radiation anyone is exposed to for medical procedures should be controlled as much as possible," said Mansour Razminia, MD, cardiac electrophysiologist at Advocate Illinois Masonic Medical Center, Chicago. "In electrophysiology procedures, many patients are exposed to x-ray radiation for several minutes up to two to three hours. While radiation exposure is closely monitored, we constantly look for ways to minimize it. Many people have multiple medical procedures that include radiation, accumulating exposure over their lifetime."
To reduce the amount of fluoroscopy, or x-ray radiation, Razminia and his team of nurses and technicians worked with other imaging tools, such as 3D mapping and ultrasound, to develop a new standard for radiation-free electrophysiology procedures in adult population offered for the first time in Chicago at Advocate Illinois Masonic Medical Center. These complex electrophysiology procedures, such as cardiac ablation, physically correct electric impulses in the heart. To be as minimally invasive as possible, physicians use imaging software to guide their instruments through the body directly to the heart.
"Avoiding the radiation lessens the patient's possibility of developing cancer from the exposure, as well as avoiding radiation burns," Razminia said. "And I've had a few cases in which the patient was pregnant, so we had to put the procedure off until the baby was born. Without radiation, we can treat pregnant women in a timely manner rather than waiting and possibly putting them at risk from this heart rhythm disorder."
One of the many patients who have undergone the radiation-free procedure is Monique Arnold, who was pregnant when she developed symptoms of what she initially thought were anxiety attacks.
"My heart was beating so hard, I could actually see it beating inside my chest," Arnold said. "My heart rate ended up at about 216 and it felt like someone was choking me. I ended up in the emergency department every month because my heart medication wasn't working."
Though she waited until she had given birth to her son before undergoing the procedure that corrected the electrical rhythms in her heart that caused it to beat so hard and so fast, Arnold opted for the radiation-free procedure because, she said, she would like to have another child and wanted to limit her lifetime dose of radiation.
"I was one of the first to undergo this procedure with no radiation," she said. "And I was told that, if I got pregnant again, my condition might get even worse. If you can avoid that much radiation for one procedure, why wouldn't you?"
For his part, Razminia continues to fine-tune the radiation-free procedure and has been busy teaching his fellow physicians in Chicago, and out of state, how to perform the ablation procedure without any x-ray.
"We always want to do what is best for the patient, and reducing any radiation exposure is a matter of common sense," Razminia said. "With today's advanced technologies, there is no reason we can't continue to perfect these procedures to make them as safe for the patients and staff as possible."
"Since December 2010, all my ablation procedures have been radiation free."
About Advocate Illinois Masonic Medical Center
Advocate Illinois Masonic Medical Center is a 408-bed hospital in Chicago with a Level I trauma center and a Level III Neonatal Intensive Care Unit, the highest designations awarded by the state of Illinois. It offers comprehensive inpatient services, including medical, surgical, obstetrics and pediatric care, as well as a full breadth of outpatient services. A recipient of numerous awards for quality and clinical excellence, Illinois Masonic was ranked one of the nation's 100 Top Hospitals in 2010 and 2011 by Thomson Reuters, as well as named a recipient of the organization's Everest Award for National Benchmarks in 2010. The medical center also was named a Top Performer in the Human Rights Campaign's Healthcare Equality Index, as well as one of the 50 Best Hospitals in America by Becker's Hospital Review for 2010. In 2008, the hospital achieved Magnet designation for excellence and quality in nursing services by the American Nurses Credentialing Center's Magnet Recognition Program. Illinois Masonic is part of Advocate Health Care, a 2009 and 2010 Thomson Reuters Top 10 U.S. health care system for quality and clinical performance and the largest provider of health care services in Illinois. For more on Illinois Masonic, visit http://www.advocatehealth.com/masonic.
# # #