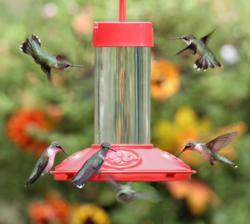 It's nice that Duncraft wants to be sure customers make their nectar correctly. They didn't have to do that, they could just sell the instant kind...Carolyn, Duncraft Customer
Concord, NH (PRWEB) July 19, 2012
Duncraft, a retailer of wild bird supplies, offers instant hummingbird and oriole nectar for their customers' convenience. But many customers prefer to make their own nectar. Duncraft offers these recipes and tips to make sure their customers prepare nectars that are healthy for the birds.
A sugar and water solution seems simple, and it is. But it's important to follow the recipe so that the birds aren't endangered in anyway. The ingredients for making hummingbird nectar are to use one part granulated white table sugar to four parts water. Cane sugar is preferable over beet sugar. (Cane sugar is non-GMO and also more environmentally friendly to process.) The instructions are as follows:
1. Bring the water to a rolling boil for five minutes. This removes some of the impurities as well as the chlorine and fluoride commonly found in tap water.
2. Remove the water from the heat and add in the table sugar. Stir until dissolved and the liquid is clear.
3. Let the liquid cool completely before offering it to the hummingbirds.
4. Excess nectar can be stored in the refrigerator for up to one week.
Duncraft reiterates that only white table sugar should be used. There is no exception to this ingredient. Customers should never use brown sugar or any type of artificial sweeteners. Also, never use honey. Honey and brown sugar ferment easily and artificial sweeteners add no calories and are of no benefit to hummingbirds.
Many customers ask if they should put red food coloring in their nectar. The research isn't definitive about this but Duncraft advises that coloring is not necessary and that clear nectar attracts hummingbirds just as well as colored nectar—as long as the feeder itself has a lot of red color in it.
Also, Duncraft stresses that the hummingbird feeder being used is absolutely clean. Using a bottle brush or a set of brushes made especially for hummingbird feeders helps remove any mold or insects that may be left behind after emptying the old nectar. Black mold in hummingbird feeders is not only bad for the birds, but will likely cause them not to return to the feeder.
Nectar should be changed every two to three days in hot weather, every four to five days in cooler weather. The feeder should be thoroughly cleaned each time the nectar is changed.
For customers wishing to make nectar for orioles, the procedure and ingredients are the same except that the ratio of sugar to water should be one part sugar to five parts water.
Founded in 1952 and located in Concord, New Hampshire, Duncraft's objective is to bring the joy of backyard birding to wild bird lovers all across the country. Mike Dunn, owner and CEO is constantly inventing and searching for innovative ideas in bird feeding—giving bird lovers years of bird feeding enjoyment, success and satisfaction.
Duncraft
102 Fisherville Road
Concord, NH 03303
603-224-0200