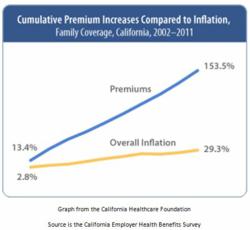 Carmichael, CA (PRWEB) July 19, 2012
Second Opinion Dental issued a statement today relating healthcare to the national economy.
Medical bills cause almost two-thirds of personal bankruptcies in the US. We now have that problem looming on a national scale. Our 2012 deficit is $1.3 trillion - new money that we borrow this year and add to our already heavy debt burden. Too much debt can lead to bankruptcy and we're rather far down that road. Now guess how much money goes to the healthcare industry each year above what other developed countries spend. Yep. About $1.3 trillion. We're tapping the national credit card to fatten up a favored industry. Maybe if we put our obese healthcare industry on a diet and redirect the extra $1.3 trillion we can avoid national bankruptcy.
An underlying fundamental to the spending bubble is that healthcare is business and businesses "sell". They all watch sales volume, and more sales is more success. Such business sales pressure elsewhere in the economy would be matched against the caution of the buyer and be kept in check. But healthcare is special. That caution is absent, the seller dominates, and expenditures rise. ( See graph from the California Healthcare Foundation, California Employer health Benefits Survey)
This sales pressure can exist if a hospital is trying to make ends meet (how much for an aspirin or an emergency room visit?). It can exist if a doctor is trying to make payroll. It can exist if a dentist is trying to "produce" enough dollar volume to keep his job. And make no mistake, non-profits seek income too. Sales pressures can be particularly acute when dollar-driven corporate executives and managers run the businesses instead of doctors.
Sales pressure fosters "aggressive diagnosis". That is intrusion of business sales pressure into the diagnostic process. In my sub-section of healthcare, dentistry, it is the recommendation of a crown when a filling will do. It is the intent to "find" a maximum amount of work on each patient. It is the diagnosis for deep cleaning where a regular cleaning would do. "Aggressive diagnosis" is also a survival response. If there is downsizing in the economy and the business is struggling with lack of work, you can diagnose some more. This is common in dentistry, and medicine has its own variations. Cut aggressive diagnosis and you can get savings, increase the availability of care, and improve quality.
Some would say the cure is government. Those people have obviously not experienced children waiting four and five hours for their time with the doctor; the interminable, byzantine paper chase; and the care-rationing of the government programs that I have experienced. Government creates additional distortions, increases cost, and is inept. Government is not the answer.
The insurer is not the answer, either. The business of insurance is the pooling of risk. It is not policing another profession. They are DIS-incentivized to substantially reduce expenditures because that would also reduce their income. They have no qualms about restricting patient choice or creating a new model unfavorable to patients (loss-leader insurance products) because it serves their insurance-business interest. And as insurance has grown over the decades so has the overall cost. Insurers are not the answer.
Journalists looking for the answer seem to focus on government and the insurers. They are conditioned to look for top-down solutions. But top-down, like central planning in the old Soviet Union or pre-reform China, performs poorly. America's strength has always been the individual. Better that we work from our strength and advance a bottom-up solution. Let's empower the individual.
The patient is the answer. The individual patient is motivated to watch over his own care. He or she serve their own interest as an individual, in contrast to the big-group orientation of insurers or mass-population orientation of government. Better an individual than a statistic. Out-of-pocket costs, the time involved, potential discomfort, and concern for one's health are all incentives.
To inform and empower the patient would be to establish the other half of the classical model that works so well in the rest of the economy. Avid sellers matched against cautious buyers. However to fulfill the cautious-buyer role in a discipline as complex as healthcare the patient needs assistance: a doctor or dentist to provide reference information free of sales bias. This can be accomplished with a new type of practice providing diagnosis and advice but absolutely no treatment. These practices should be brick-and-mortar establishments because good information requires more than an internet search, a telephone call, or a friend's referral. The doctor needs to see the patient. It would be an information resource -- a way for the patient to "Trust, but verify" and protect against aggressive diagnosis. Costs would come down; prevention program savings could be realized; and healthcare would be made more efficient by the "smart shoppers" of the American public.