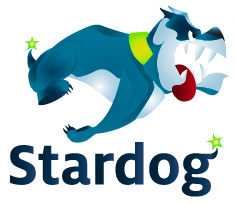 Stardog is a key component in successful IT projects at Fortune 500 enterprises and governments around the world.
Washington, DC (PRWEB) July 19, 2012
C&P LLC, the company behind Stardog, today announced the release of Stardog 1.0.2. Stardog is a NoSQL graph database based on W3C semantic web standards: SPARQL, RDF, and OWL. Stardog is a key component in Linked Data-based information integration at Fortune 500 enterprises and governments around the world.
The new release follows closely on last month's launch of Stardog 1.0. The 1.0.2 release includes Stardog Community, a free version of Stardog for community use in academia, non-profit, and related sectors. Stardog is being used by customers in the areas of government, aerospace, financial, intelligence, defense, and at consumer-oriented startups.
"We are pleased with the technical progress made on Stardog since the 1.0 launch," said Dr Evren Sirin, CTO, C&P LLC. "Today's release begins our support for SPARQL 1.1, a crucial standard in enterprise information integration and semantic technologies. It also introduces Stardog Community to a new user base in linked open data, open government data, and related
fields."
About C&P LLC
C&P LLC is the company behind Stardog, the RDF Database. C&P leads development, builds community, and provides commercial services. Stardog is a graph database, based on semantic technology standards, helping companies quickly and easily build applications that integration and analyze heterogeneous enterprise information at scale. Founded by Kendall Clark in 2006 and led by seasoned technologists, C&P LLC has been a leader in commercializing semantic web technologies since 2007. C&P global customers include NASA, EDF, European Commission, Wells Fargo, JP Morgan Chase, National Cancer Institute, National Science Foundation, University of Arizona, Army Corps of Engineers, Benefitfocus, Columbia College Chicago, Jet Propulsion Labs, NIST, SAIC, Lockheed Martin, Wolters Kluwer.
C&P has headquarters in Washington, DC and offices in Boston. For more information, visit C&P or Stardog. Follow us on Twitter at @candp and @stardog_db.