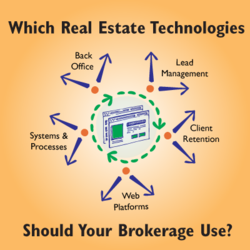 Camp REinvent helps brokers bridge the gap between industry innovation and the expectations of their agents and consumers
Atlanta, GA (PRWEB) July 20, 2012
PCMS announces the return of its popular Camp REinvent-ONLINE broker webinar series. The series will focus on combining real estate technology and business best practices to improve back office operations, real estate marketing and real estate lead management.
PCMS will facilitate the discussion along with leading real estate brokerages and other industry professionals who have successfully refocused their brokerage operations using real estate technology. The webinars will explore examples of the real estate technology available to brokers including real estate web platforms, broker operating systems and internet lead response and distribution tools.
"The initial Camp REinvent webinar series was launched in 2009. It introduced brokers to new ideas about reinventing their business strategies. We also emphasized the importance of new real estate technology, and how it could increase both their profitability and market share." states Jose Perez, Founder and Chief Visionary of PCMS. "Camp REinvent helps brokers bridge the gap between industry innovation and the expectations of their agents and consumers. We continue to offer value and support to brokers by focusing on topics that help brokerages re-energize their businesses."
The Camp REinvent™ ONLINE! series will consist of weekly webinars running August 2nd — August 30th. Each webinar will be facilitated by PCMS and a panel of leading brokers and topic experts:
August 2: Broker Operating Systems. Explore the world of business process management and the real estate technology behind it. Learn how improving your business systems and processes will ultimately deliver cost savings and efficiencies that will allow you to squeeze additional dollars out of every transaction.
August 9: Building a Better Brokerage Website for Real Estate Consumers. How do you create an engaging website that is focused on the real estate consumer? Discover what user features you should include, and how they capture more leads for your agents. The right real estate technology can revolutionize your brand's profitability.
August 16: Integrating Multiple Real Estate Technology Platforms. Every brokerage uses multiple types of technologies, but they mostly don't communicate / integrate with each other. The result is inefficiency that negatively affects your bottom line. Learn how leading real estate companies are integrating their real estate technology systems and saving money.
August 23: Agent Websites and Tools. Consumers visit your brokerage website, but at some point they will choose an agent for their transaction. Are your agents prepared to handle this online relationship, and do they have the right tools to communicate effectively? Our panel will be discussing what real estate technology their agents use most and how they use it to increase sales.
August 30: Tracking your Internet Lead ROI. Online visitors to your brokerage website want an immediate response to their internet inquiries, yet in the real estate industry, 48% of internet leads go unanswered. Both lead management and real estate customer service are critical to your sales pipeline. Learn how to calculate your internet lead ROI and how critical lead management is to the overall health of your brand.
Guests for each broker webinar will include representatives from innovative, multi-office companies who are implementing strategies with real estate technologies that differentiate their brokerages and agents from the competition.
Upcoming webinar panelist, Michael Bean comments, "Brokers are looking for ideas that will help them succeed in this new environment while also increasing profitability and market share. Camp REinvent™ is an excellent way to be exposed to new thinking and new real estate technology that leading companies are employing to grow their businesses." Bean is President of Bean Group, a multi-office brokerage operating in New Hampshire, Vermont, and Massachusetts.
Perez continues, "Our team has a wealth of experience in the real estate industry. Our success is rooted in our exposure to what the most innovative technology companies are doing to provide valuable solutions to brokerages. Camp REinvent™-ONLINE! is the perfect blend of real estate brokers and technology experts discussing what works."
ABOUT PCMS
A highly-regarded provider of real estate solutions, PCMS modernizes brokerage operations by transforming the role of technology with intuitive, web-based solutions focused on adaptability and accessibility. To further their mission, PCMS created Camp REinvent™, a powerful idea-sharing movement that helps brokers focus on the value and support that today's sophisticated agents and consumers are looking for. For more information about this innovative real estate consulting practice, visit http://www.pcmsconsulting.com.