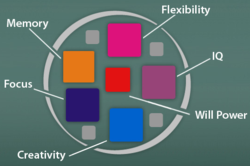 Personality type matters when it comes to working memory training
New York, NY (PRWEB) July 20, 2012
MindSparke today introduces the first brain training program to adapt to the trainee's personality type. With a few simple questions MindSparke matches the trainee's personality to the exercises it delivers. This novel approach is designed to ensure that customers get the most out of the training.
"We're on a mission to make brain training smarter," says Martin Walker, MindSparke CEO. "Research shows that personality type matters when it comes to working memory training, so we've created an intelligent system that builds on the research and delivers greater benefits to the trainee by selecting the training exercises that best match his or her personality."
Earlier this year a joint team from the Universities of Michigan and Bern, Switzerland, published a study showing that some people thrived on more complicated brain training exercises while others enjoyed greater gains in brain power when the exercises remained simpler. Which kind of brain training worked best depended on the personality type of the trainee. MindSparke's first-of-its-kind innovation uses a similar test and adapts the training accordingly.
MindSparke is a New York-based Internet services and software company with a global reach. Renowned as an industry leader for its innovative, cost-effective approach to brain training, MindSparke's brain training programs target cognitive improvement, IQ increase, and impulse control. MindSparke training subscriptions cost as little as $19.95 per month making it considerably more affordable than most of its competitors.