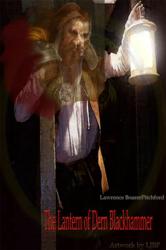 I encourage readers of historical fiction and fantasy to follow me.
Sacramento, California (PRWEB) July 19, 2012
A Twitter extravaganza? Lawrence BoarerPitchford, author of The Lantern of Dern Blackhammer and the serial short stories In the World of Hyboria, is bitten by the Twitter bug. "My following is growing, like the blob," Lawrence says. "It's an amazing tool to let my readers know what's happening with me and where I'm heading. I encourage readers of historical fiction and fantasy to follow me. Or, if you're just interested in this Lawrence BoarerPitchford fellow, you should follow me too." Lawrence writes sword and sorcery fantasy and historical fiction. His next release is slated for September 1, 2012. "If you have a passion for ancient Rome, or are an American Civil War buff, or you've been enjoying my adventures in Hyboria, don't miss the September release of Thadius, Sawbones, and Series B In the World of Hyboria."
The author also wants to keep in the public eye his campaign to provide six months' worth of royalties to the American Cancer Society. "Each purchase of one of my books is money in the pocket of a worthy charity. Check out my web site BoarerPitchford.com to see where we stand and where we'd like to be." He also want's those out there to spread the word on Facebook, Twitter, Goodreads, and everywhere one can think to get the dollar amount as high as possible.
Visit Lawrence's website to see an interview with him. His website also provides access to a blog called Swords, Aliens, and More, that discusses how fiction is part of civilized culture, particularly science fiction, and fantasy. Take a moment to explore BoarerPitchford.com and visit the author on Facebook, Twitter, and Goodreads.