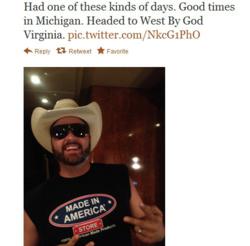 Elma, New York (PRWEB) July 20, 2012
The Made In America Store is no stranger to the country music scene, especially with their own Nashville Recording Artist, Ricky Lee. Along with having their own country singer, the Made In America Store has been involved with numerous country concerts including Rock the Barn and Jam in the Valley. With every festival, concert and benefit party, the Made In America Store owner, Mark Andol, shares his experiences and views on why it's so important to buy American.
Upon being a major sponsor for Jam in the Valley, Mark Andol was able to meet some of the big name stars. One of which took notice to Mark Andol's message of 'Buying American", Randy Houser, enjoyed a long talk with the store owner.
Randy Houser, known for his big hits on the country charts with "How Country Feels" and "Boots On", had talked to Mark Andol about the store and showed an enthusiastic interest. After talks, Mark Andol had given Randy Houser and his band some Made In America Store t shirts and sleeveless shirts as gifts for taking interest of the store.
About two weeks later, Randy Houser tweeted a picture of him sporting the Made In America Sleeveless tee shirt and a cowboy hat with the phrase "Had one of these kinds of days. Good times in Michigan. Headed to West By God Virginia."
Looking for the Made In America Store t shirt or sleeveless tee that Randy Houser was wearing? You can find this and more at the Made In America Store website!
Randy Houser then tweeted to the Made In America Store requesting more shirts, saying that every time he wears one, someone wants it. "Need more shirts. Have given two away. Every time I wear one someone wants it." Tweeted Randy Houser.
Have a Twitter account? Follow the Made In America Store for promotion codes, news about the store and American manufacturing and more with Twitter name @theMIAStore!
The Made In America Store is located at 900 Maple Road in Elma, New York and is committed to selling 100% American manufactured products. You can visit http://www.MadeInAmericaStore.com for more information or shop our catalog of over 3,500 products from over 290 vendors that are devoted to producing USA made products. All US military personnel, both active duty and veterans, receive a discount every day. Consumers can also keep up to date news articles, events, photos and contests with Facebook, Twitter, Google+, Pinterest and Tumblr!