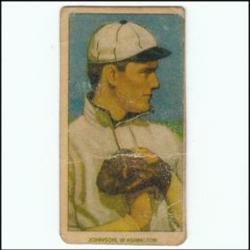 The auction will be ending at 1:36 P.M. Pacific Daylight Time on Thursday July 19th.
Costa Mesa, CA (PRWEB) July 19, 2012
PoliceAuctions.com, home of police auctions and government auctions on the web, is auctioning a Walter Johnson rookie card. The auction will be ending at 1:36 P.M. Pacific Daylight Time on Thursday July 19th. The card is a 1909 T206 Hands at Chest American Beauty Cigarette Card.
Walter Johnson pitched 110 shut outs; this is more than any pitcher ever, according to baseballhall.org. Known as The Big Train, Johnson played his 21 year career with the Washington Senators where he won 417 Games. With 417 games won, Johnson is the second most winning pitcher after Cy Young.
The T206 tobacco card set was issued by the American Tobacco Company and distributed by the company's sixteen different brands throughout 1909 and ending in 1911, according to Wikipedia.
The auction for the vintage pre-war era baseball card will be a one dollar no reserve auction. This means that if the auction for the baseball card ends at only one dollar than the lucky winner would only pay one dollar, plus shipping and any applicable taxes, for the card.
About PoliceAuctions.com
PoliceAuctions.com offers many services to their members including a searchable listing of police auctions and government auctions. PoliceAuctions.com is known for their one-dollar no reserve auctions. These fast paced auctions offer their users the chance to bid on, and win, items for as little as one dollar. By combining a product selection ranging from name brand jewelry auctions, watch auctions, collectible coin auctions, and sports memorabilia auctions with industry leading customer service, PoliceAuctions.com has earned the loyalty of over 5 million devoted users.
PoliceAuctions.com has made it even easier for customers and fans to connected with them via social media like their Facebook fan page. This exciting and newly launched space informs customers of up coming auction items.