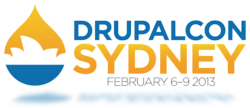 We expect DrupalCon Sydney to play a key role in building awareness of how this amazing content management platform can help individuals and organisations build complex websites more efficiently and with greater flexibility
Portland, OR / Sydney, Australia (PRWEB) July 19, 2012
The Drupal Association, the non-profit educational foundation of the Drupal project and host of the DrupalCon conferences, today announced the addition of DrupalCon Sydney, February 6-9, 2013 to its growing list of conferences that educate and congregate on all things about the open source content management platform. Sydney was selected because of its growing interest in the Drupal community and increased Drupal adoption.
The conference will take place at the Crowne Plaza Coogee Beach with the theme of "Growing Drupal Downunder." It is designed to be relevant to any organisation already using, considering using, or wanting to learn about Drupal for a CMS. The founder of the Drupal project, Dries Buytaert, will keynote the opening session and talk about the future of Drupal. Other keynotes, registration, call for papers and sponsorship details will be announced soon. There will be sessions for all levels of Drupal knowledge, as well as plenty of case studies, trainings and code sprints.
"The local Drupal community is very excited that the momentum built at previous Drupal Downunder events in Melbourne and Brisbane has led to Sydney being selected for an official DrupalCon," said Owen Lansbury, Managing Partner of PreviousNext and a Drupal user for 5 years. "We expect DrupalCon Sydney to play a key role in building awareness of how this amazing content management platform can help individuals and organisations build complex websites more efficiently and with greater flexibility."
"It's a dream come true to now have a DrupalCon Downunder!" says Donna Benjamin, a recent addition to the Drupal Association Board of Directors, and past organizer of Drupal Downunder Melbourne 2012. "The global Drupal community needs events like these taking place outside the established centres of Europe and North America to really help the overall community grow. It's so good to see Sydney and São Paulo join the DrupalCon line-up."
Who should attend:
-- Anyone in the region who wants to learn about the open source Drupal CMS and when and why it can work for their web sites
-- Local web developers, themers, site architects, project managers, content authors, designers, front and back end developers and more that want to engage with the community behind Drupal
-- Web professionals and firms who offer Drupal related services
-- Anyone working for an organisation that's adopted Drupal as their CMS
-- Technology decision makers
What is Drupal?
Drupal is an open source content management platform with a community of over 16,000 registered developers and nearly 800,000 members around the world in 228 countries, speaking 181 languages - all using Drupal.org, with over 15,000 modules and 4,000 code changes per week on the Drupal project. Drupal powers millions of websites and software applications, from personal blogs to the largest enterprise applications, media publishers, universities, and governments agencies, including sites Downunder such as: Suncorp Bank, the Australian Broadcasting Corporation, University of NSW and hundreds of government websites at a federal, state and local level.
What is DrupalCon?
DrupalCons bring together the people who use, develop, design, support and want to learn about the Drupal platform. There are sessions across many different tracks, Birds of a Feather sessions, code sprints, trainings and use cases. The Drupal Association will also debut its first event in Latin America, DrupalCon Sao Paulo, December 6-8, 2012. The São Paulo conference will be focused on current Drupal developers, taking place just after the Drupal 8 code freeze. Upcoming DrupalCons include: DrupalCon Munich, August 20-24 and DrupalCon Portland (Oregon) 2013, home to many open source conferences, as well as the Drupal Association.
About The Drupal Association
The Drupal Association is dedicated to helping the open source Drupal CMS project flourish. Powering millions of websites and software applications, from personal blogs to the largest enterprise applications, Drupal is free, flexible, and extremely robust. It is constantly being improved by a community of hundreds of thousands of passionate people from all over the world. The Drupal Association provides the support, infrastructure and funding to grow the Drupal Community, help with online collaboration at http://drupal.org, and host and support DrupalCons and other events around the world. Funds to support these programs come from memberships, sponsorships and donations. To learn more about the Drupal Association, the Drupal Project, and how to get involved and contribute, visit https://association.drupal.org/.