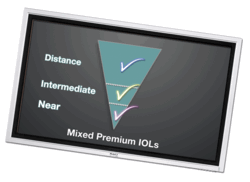 "The new Eyemaginations content explains this concept to patients easily and in an easy-to-understand format."
- Dr. Steven Dell, Dell Laser Consultants
Baltimore, MD (PRWEB) July 19, 2012
Eyemaginations, Inc. is pleased to announce a new collaboration with Dr. Steven Dell on premium IOL options for cataract patient education. Structured in a Q&A type format, the new narrated video provides an overview on such patient questions as how good distance and near vision can be achieved by combining accommodating and multifocal IOLs, what results to expect post-operatively, and the insurance coverage associated with various IOL options. The company indicates that the new content is available in its latest software release of LUMA v1.9.5 from earlier this month.
Dr. Steven J. Dell is an internationally recognized leader in refractive and cataract surgery and serves as Medical Director for Dell Laser Consultants located in Austin, TX. He has repeatedly been elected as one of the Top Fifty Opinion Leaders in the field of Cataract and Refractive Surgery by the worldwide physician readership of the medical journal "Cataract and Refractive Surgery Today" and is Chief Medical Editor of Advanced Ocular Care. Dr. Dell is the President-elect of ACOS, The American-European Congress of Ophthalmic Surgery.
"Many of our cataract patients often ask how we can reduce the need for glasses after surgery," commented Dr. Dell. "And typically we can do that by using special premium implant lenses that can focus distance and near. The new Eyemaginations content explains this concept to patients easily and in an easy-to-understand format."
"Our goal in this collaboration is to provide cataract surgeons with content to help them counsel patients to select the best options," noted Jeff Peres, President and CEO of Eyemaginations.
About Eyemaginations
Eyemaginations, Inc. is a health care media company focused on solutions that support professionals, patients and corporations in communicating and understanding complex topics. The company's in-depth experience with animation, design and software has enabled Eyemaginations to create integrated systems that provide clear and concise education solutions. Eyemaginations has a portfolio of products that are focused on eye care, ENT, audiology and facial aesthetics. The company has offices in the United States and Europe. Eyemaginations may be reached by phone at 1-877-321-5481, email at info(at)eyemaginations(dot)com or online at http://www.eyemaginations.com.