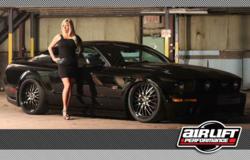 These Modern Muscle kits go beyond aesthetics with a strong focus on ride quality and handling.
Lansing, Michigan (PRWEB) July 25, 2012
Air Lift Performance is proud to officially launch their line of performance air suspension kits for Modern Muscle vehicles. Whether you want to show off at a car show, enjoy a day at the track/ autocross, or just drive around town in a cool car, these suspension kits will meet all your needs. With these highly versatile suspension options, Air Lift Performance eliminates the compromises made when adding lowered suspension to your vehicle, while enjoying all of the benefits!
Air Lift Performance engineers designed these new kits specifically for today's muscle cars such as the Ford Mustang, Chevrolet Camaro and Dodge Challenger/Charger. These aren't the classic muscle cars from the heyday of the late '60s and early '70s - today's muscle cars pack a performance edge with modern technology under the hood. Air Lift Performance takes that performance to the next level. While traditional lowering methods may achieve the desired look, these Modern Muscle kits go beyond the aesthetics with a strong focus on ride quality and handling. Air Lift Performance ensures drivers can go from the car show, to the street, to the track with superior handling and optimal performance.
Along with providing the lowest stance possible and significant lift capability, all Air Lift Performance kits feature attractive and durable powder-coated and red anodized components for a show-stopping look. Kit components are torture-tested to the equivalent of 100,000 road miles and thoroughly race track tested before release to ensure long life and ideal performance. The adjustable air springs, coupled with the Air Lift Performance AutoPilot V2 on-board control system, provide easy ride height adjustment to safely handle speed bumps, steep driveways, or any other obstacle the streets may present. With the touch of a button you can now go from a show stopping stance to any desired height. Modern Muscle kits are easy to install with little to no vehicle modifications and come with a standard one-year manufacturer's warranty and super detailed instruction manuals.
Air Lift Performance is a division of Air Lift Company. Air Lift Company, founded in 1949, is a third generation, family owned suspension specialty company based in Lansing, Michigan. Air Lift is committed to engineering, manufacturing and selling the highest quality suspension products that fit, work and last. Air Lift products are available at retailers across the country as well as internationally. For more information, contact Air Lift Company by calling (800) 248-0892, or on the Web at http://www.airliftperformance.com/ or http://www.airliftcompany.com/.
Like Air Lift Company on Facebook to stay updated on product and company developments and to see the products in use in photos and videos: http://www.facebook.com/AirLiftCompany