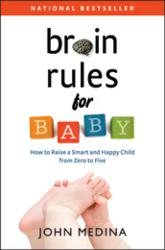 Scientists agree, kids under the age of 2 should not watch TV
(PRWEB) July 19, 2012
Changes in TV Viewing Habits:
Americans 2 years of age and older now spend an average of four hours and 49 minutes per day in front of the TV—20 percent more than 10 years ago. And people are getting this exposure at younger and younger ages, made all the more complex because of the wide variety of digital screen time now available. In 2003, 77 percent of kids under 6 watched television every day. And children younger than 2 got two hours and five minutes of "screen time" with TVs and computers per day. The average American is exposed to about 100,000 words per day outside of work. Fully 45 percent of those words come from television.
TV and the Brain:
Research shows that TV watchers are more likely to become bullies and less able to focus in school. Developing brains need face time and play time, not "screen time."
Brain Rules Baby Video Campaign:
Brain Rules Baby, a talking 6-month old baby, gives parents the latest research news in a fun and engaging way. Watch the first video here.
Dr. Medina's recommendations for TV viewing:
1. Keep the TV off before the child turns two. If you can't turn it off -- if you haven't created those social networks that can allow you a rest -- at least limit your child's exposure to TV. We live in the real world, after all, and an irritated, overextended parent can be just as harmful to a child's development as an annoying purple dinosaur.
2. After age two, help your children choose the shows (and other screen-based exposures) they will experience. Pay special attention to any media that allow intelligent interaction.
3. Watch the chosen TV show with your kids, interacting with the media, helping them to analyze and think critically about what they just experienced. And keep the TV out of the kids' room: Kids with their own TVs score an average of eight points lower on math and language-arts tests than those in households with TVs in the family room.
About Brain Rules for Baby:
Learn more about kids' exposure to TV by reading Dr. John Medina's book, "Brain Rules for Baby: How to Raise a Smart and Happy Child from Zero to Five." Additional resources for parents are available at http://www.brainrules.net
About the Author:
Dr. John J. Medina is a developmental molecular biologist and research consultant. Medina holds joint affiliate faculty appointments at Seattle Pacific University, where he is the director of the Brain Center for Applied Learning Research, and at the University of Washington School of Medicine, in its Department of Bioengineering. In addition, Medina was the founding director of the Talaris Research Institute, a Seattle-based research center originally focused on how infants encode and process information at the cognitive, cellular, and molecular levels.
He lives in Seattle with his wife and sons.
About Pear Press:
Pear Press is a small publisher that publishes big books. We plan to publish no more than one book every year or two because it takes time to deliver quality content.
We believe books are still important in the 21st century. We strive to combine the best of old-world publishing and new-world media. Our mission is to maximize the reach of our content around the world, and so the content takes many forms: printed book, audio book, film, e-book, video, blog, Web tutorial, e-mail newsletter or live presentation by one of our authors.
###