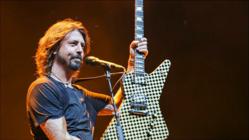 Tonight I'll tell you why I'm the luckiest guy here… because rather than just playing some guitar for the next bunch of songs, Rick Nielsen from Cheap Trick let me borrow his guitar! --Dave Grohl
Rockford, Illinois (PRWEB) July 19, 2012
The Burpee Museum of Natural History is pleased to announce the addition of Dave Grohl, Slash, famed producer Jack Douglas, Todd Rundgren and late-night sensation (and guitar collector) Conan O'Brien to Rick's Picks: A Lifelong Affair with Guitars & Music.
Each artist will provide a guitar and an interview segment for the multi-media, video-enhanced exhibit. Rick's Picks tells the story of Cheap Trick's legendary guitarist, Rick Nielsen, and his passion for guitars and music. The exhibit opens August 11th, at the Burpee Museum of Natural History in Rockford, Illinois.
Grohl has performed with a variety of musicians, including Garbage, Killing Joke, Nine Inch Nails, The Prodigy, Slash, Juliette Lewis, Tenacious D, Tom Petty and the Heartbreakers, and Lemmy. He is most notable, though, as the founder of Foo Fighters and an original member of Nirvana.
On an evening when Grohl gave his Rick's Picks interview backstage at the Marcus Amphitheater in Milwaukee, he took Nielsen's famed Checkerboard Hamer Standard on stage during his set and introduced the guitar in style, saying, "Tonight I'll tell you why I'm the luckiest guy here… because rather than just playing some guitar for the next bunch of songs, Rick Nielsen from Cheap Trick let me borrow his guitar! (crowd roars) The original checkerboard! You know this one… you've heard it a thousand times… (sings and plays chorus to Surrender; crowd roars again; holds up guitar) This is the one! So in honor of that, and because Cheap Trick is one of the bands that made me want to start a band, I'd like to play the first song of the first Foo Fighters record!"
Slash is best known as the former lead guitarist of Guns N' Roses and co-founder of the supergroup Velvet Revolver. He has appeared with Nielsen on many occasions and refers to him as one of his mentors and chief influences.
Slash told the story of an especially interesting encounter with Rick at his Rockford home during a Guns N' Roses tour stop years ago. He said it didn't end particularly well, but later called to apologize and the two guitar heroes have been friends ever since.
Todd Rundgren, a multi instrumentalist, singer, and producer is best know for his songs, "Hello It's Me," "I Saw the Light" and "Bang on the Drum All Day," but also worked as producer with Nielsen and Cheap Trick on the 1983 album, Next Position Please. The duo have been longtime friends and have always admired each others' work.
In a recent interview in Los Angeles for the Rick's Picks exhibit, Douglas, who played a key role in Cheap Trick's early success, told in scintillating detail the story of his first encounter with the band and its then soon-to-be legendary guitarist at a bowling alley in Waukesha, Wisconsin in the early '70s.
More musicians and FORs (friends of Rick) are lining up to be a part of this one-of-a-kind exhibit in Nielsen's hometown of Rockford, Illinois. A celebratory concert, Rick Nielsen & Friends is being planned for January, 2013.
The exhibit opens in Rockford, Illinois with preview tours for sponsors, special guests and the media on August 10th, 2012, and to the general public on Saturday, August 11th, 2012 at Burpee Museum of Natural History, 737 North Main Street Rockford, IL 61103. Find more information on Facebook. Or follow emerging news on Twitter.
Post-Rockford, officials intend to send the exhibit on an worldwide tour. Corporations and Organizations interested in national and international sponsorship of the exhibit are invited to visit the Rick's Picks Sponsorship page, or to contact Rick's Picks Director of National Sponsorship, Jennie Walker at jwalker(at)rickspickslive(dot)com for more information. Many levels of collaboration are available.
About Rick's Picks
It's Guitars. It's Rick. It's Music History. It's a Fundraiser. From Rockford, Illinois' skating rinks to Tokyo's Budokan, Rick's Picks tells the 40-year story of one of the hardest-working stars in Rock & Roll. As one would expect, Rick has more stories than his five neck has strings. Rick's Picks also is a fundraiser for Rick Nielsen's favorite hometown museum, the Burpee Museum of Natural History. For more information, visit http://www.rickspickslive.com or contact Anne Boccignone, 815-742-0110, aboccignone(at)grahamspencer(dot)com.
About Burpee Museum of Natural History
Since 1942, Burpee Museum of Natural History has inspired people to engage in a lifetime of learning about the natural world. Burpee Museum of Natural History is home to 66-million year old juvenile T.rex, Jane, as well as a number of other interactive and educational exhibits. For more information, or to see a schedule of events, please visit http://www.burpee.org.
About Rick Nielsen & Cheap Trick
When Cheap Trick burst onto the national music scene in the 1970s, it broke new ground with a punkish, hard-edged brand of literate garage rock that was the perfect antidote to what ailed weary FM radio listeners worldwide. The band's uniquely midwestern sensibilities have been deftly recorded in 28 albums and laid bare in thousands upon thousands of performances worldwide. With walls of gold and platinum records to prove their enduring success, Cheap Trick and its pick-flinging, checkerboard-bedecked dynamo Rick Nielsen have never stopped touring, much to the delight of one of rock history's most loyal fan bases. Rick Nielsen, and bandmates Robin Zander and Tom Petersson can be seen touring with Aerosmith in major cities across North America this summer. The band and the tour were named among "the summer's hottest" by Rolling Stone magazine.