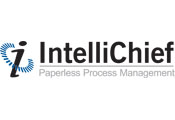 Mansfield, MA (PRWEB) July 19, 2012
IntelliChief LLC, the leading provider of Paperless solutions for the IBM i (System i, iSeries, AS/400) and Power Enterprise, today announced that the Chelsea Milling Company has selected Infor IntelliChief to raise efficiency across department operations. By choosing Infor IntelliChief, Chelsea Milling is demonstrating a commitment to reducing their use of paper, while decreasing company costs and document processing time.
Chelsea Milling Company, located in Chelsea, Michigan, is operated by a family who has been milling flour in Chelsea for over 120 years. Their Jiffy product is shipped to all 50 states, as well as some foreign countries through the United States Military.
Chelsea Milling will use IntelliChief to capture and store documents created from their Infor ERP LX application as well as external documents which will be scanned and indexed. IntelliChief is an Infor Solution Partner and developer of Infor IntelliChief Document Management which allows users to easily find and retrieve all relevant documents electronically, directly from their Infor LX screens or from the IntelliChief dashboard.
Through the elimination of paper and the automation of processes, Chelsea Milling Company can expect a return on investment for IntelliChief in less than 12 months. While IntelliChief improves operational efficiency, and can reduce or even eliminate paper, toner, and storage costs, it also stores and protects critical documents from disaster by backing them up in its repository. IntelliChief allows for companies to transform cumbersome manual processes into pure paperless environments.
About IntelliChief
IntelliChief, is the leading provider of Paperless Process Management (PPM) solutions for the IBM i (System i, iSeries, AS/400) Enterprise. With decades of expertise in the market and seamless integration with leading ERP software vendors, IntelliChief takes companies of all sizes paperless with a typical ROI of less than one year. Users can create, capture, manage, archive, retrieve, and distribute mission-critical documents directly from their familiar ERP screens, eliminating the need for filing cabinets, storage facilities, fax machines, copiers, and paper files.