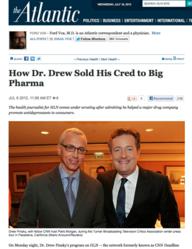 Doctors for years were paid kickbacks to over-prescribe Glaxo drugs," says McCormick. "The almighty dollar seems to be more important than patient safety. It's a sad state of affairs right now.
Philadelphia, PA (PRWEB) July 19, 2012
Three billion dollars is the biggest payment ever by a drug company (1), but attorney Stephen Sheller of Sheller, P.C. says he has seen similar conduct by the drug industry before. The whistleblower settlement echoes pharmaceutical whistleblower cases handled by his firm that are three of the largest illegal marketing and False Claims Act recoveries in U.S history in just three years: Eli Lilly for $1.4B (2), Pfizer for $2.3B (3) and AstraZeneca for $520M (4).
"What we've discovered," says Sheller, "is that once the company settles they must be under the view that the government won't be watching anymore. It's repetitive behavior. It's calculated as the cost of doing business."  
According to the U.S. Attorney's office for the District of Massachusetts the settlement resolves claims relating to Paxil, Wellbutrin and Avandia and other drugs, as well as settling allegations of fraud. The historic settlement is based in part on GSK's off-label promotion and kickbacks to doctors.
Sheller partner Brian J. McCormick, Jr. says that as much as a pharmaceutical company's fraudulent activity, what disturbs him the most is a doctor's complicity with a drug company's sales force. In the Glaxo matter, as well as the three enormous settlements commandeered by his firm, doctors, he claims, were on "the take."
"Doctors for years were paid kickbacks to over-prescribe Glaxo drugs," says McCormick. "The almighty dollar seems to be more important than patient safety.  It's a sad state of affairs right now." 
U.S Attorney Carmen Ortiz, the chief federal law enforcer for the Massachusetts, said the bribes Glaxo made to doctors took many forms "from Hawaiian vacations, to paying doctors millions of dollars to go on speaking tours, to a European pheasant hunt, to tickets for Madonna concerts."
According to the feds, GSK paid doctors to talk up off-label uses for its drugs, particularly the antidepressants Paxil and Wellbutrin. Matthew Herper reported in Forbes that Justice investigators say GSK shelled out $275,000 in March and April 1999 to just one doctor: the celebrity physician Dr. Drew Pinsky.
According to the government's case against Glaxo, in return for those payments, Pinsky served as a spokesperson for Wellbutrin. On both radio and television, Pinsky promoted Wellbutrin's positive effect on sex drive, in contrast to other antidepressants' depressing effects on the libido. 
Ford Vox, brain injury physician and journalist for The Atlantic, says "Dr. Drew broadcast GSK's intended message while keeping audiences in the dark about being a paid spokesman. [And his] habit of taking money from pharma doesn't appear to end there. ProPublica's 'Dollars for Docs' database reports that Johnson & Johnson paid Dr. Drew $74,500 just two years ago."
"Doctors do deserve some of the blame," says Sheller, "but what I want, beyond these extraordinary fines, is to see to it that the CEOs of these major companies end up behind bars. Then it may stop."
About Sheller, P.C.: Philadelphia-based Sheller, P.C. represents plaintiffs injured by drugs and whistleblowers reporting pharmaceutical industry wrongdoing. The firm is currently litigating mass tort cases for children harmed by the Johnson & Johnson/Janssen Pharmaceuticals antipsychotic Risperdal (5,6). In practice since 1977, Sheller, P.C. has challenged some of the largest corporations in the country including tobacco, auto, and drug and medical device manufacturers. The firm has been counsel in more than $4.2 billion in whistleblower recoveries for the U.S. government, three of the largest in U.S. history (2,3,4). Led by the Sheller whistleblower leadership team, the firm continues to represent whistleblowers in other cases across the country.
Cases cited:
(1) United States, ex. rel. Greg Thorpe, et al. v. GlaxoSmithKlinePLC, No. 11-10398, Eastern District of Pennsylvania
(2) United States, ex. rel. Robert Rudolph, et al. v. Eli Lilly and Company, No. 03-943, District of Massachusetts
(3) United States, ex. rel. Ronald Rainero, et al. v. Pfizer, Inc., No. 07-11728, District of Massachusetts
(4) United States, ex. rel. James Wetta, et al. v. AstraZeneca Corp., No. 04-0379, Eastern District of Pennsylvania
(5) In re Risperdal Litigation, March Term 2010, No. 296 (Philadelphia County Court of Common Pleas)
(6) In re Risperdal/Seroquel/Zyprexa Litigation, Case No. 274 (Superior Court, Middlesex County, N.J.)
Resource:
U.S. Department of Justice GSK Settlement Information Page