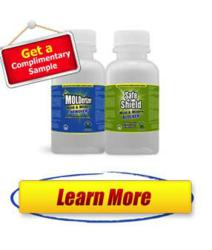 With their effectiveness, the solutions also make it easier and faster to finish a mold treatment.
St Louis, MO (PRWEB) July 20, 2012
Mold removal cost can take a huge chunk out of someone's home maintenance budget. The reason is that it can cause serious damages to a lot of things. In some cases, it can even render an item completely useless. To spare property owners and mold cleaning professionals from big financial losses, Molderizer formulated two mold solutions that effectively work without being expensive and harmful to health and the environment.
The two mold remediation products are called Molderizer and Safe Shield. The former is for mold elimination, and the latter is for mold prevention. To prove their worth and that they are indeed effective and safe, the company is giving out complimentary samples of said products.
Grab a Sample of Molderizer and Safe Shield Today
Both Molderizer and Safe Shield promise an effective mold treatment with minimal work. To all property owners that means big savings in time and money. To professional mold cleaners on the other hand, that means less labor cost and more profit.
Specifically, the products work by breaking down the DNA of mold spores. And with just a little scrubbing, the spores are completely eliminated and then prevented from growing back.
However, unlike other mold products available today, Molderizer and Safe Shield are both made with natural ingredients. And so, exposure to them does not present risk to health. On the contrary, the use of them actually promotes wellness all thanks to the relaxing fragrances added to their contents.
Discover How Wellness is Infused With the Green Mold Remediation Products
To mothers, the use of the solutions presents a means to protect every family member from allergies, coughing and breathing problems. Mold is a very common source of allergy but the use of strong chemicals can worsen the health risks that they present. Nonetheless, with the said two products, spores are eliminated without leaving chemical residues that harm the health. That, in return, prevents any additional medical spending.
With their effectiveness, the solutions also make it easier and faster to finish a mold treatment. And as they only require minimal work, mold contractors don't need to employ several workers to get the job done. That can cut the labor cost of any mold cleaning business.
In addition, the fact that the solutions are green cleaners makes the mold cleaning services more attractive. The products offer clients more benefits as they give them an opportunity to help the planet without spending too big.
Help the Planet With Your Mold Treatment. Order Your Green Mold Remediation Products Today for Free Shipping