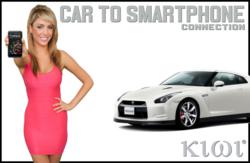 Sunnyvale, CA (PRWEB) July 19, 2012
PLX Devices Inc. presents the new Kiwi, the ultimate car to smartphone interface. The Kiwi connects with 1996 and later vehicles and installs in seconds. Connection is made through the vehicle's OBDII/CAN port located near or under the steering wheel. Interfacing with a vehicle's on board computer allows for monitoring fuel efficiency MPG, viewing real-time gauges, read/resetting engine check trouble codes, diagnosing vehicle health and much more. The Kiwi works with iPhone/iPad/iPod Touch, PC and Android devices.
"If you're a car lover like myself, the Kiwi is a must have tool," said Paul Lowchareonkul, the CEO of PLX Devices Inc and the inventor of multiple award-winning products. "It empowers you to obtain expert knowledge about your vehicle without the need to visit your local mechanic."
The Kiwi is compatible with ISO 9141, VPW, PWM, KWP2000, and CAN protocols and it supports a great deal of apps. It incorporates an advanced power saving circuit designed to shut power off to essential functions of the unit allowing the Kiwi to be permanently installed in a vehicle.
PLX Devices Inc. pioneered the Car to Smartphone revolution with the first generation Kiwi Wifi in 2010, winning a SEMA award for Best Mobile Electronics Accessory, Popular Mechanics Editor's Choice Award and 11 global media awards. PLX is committed to excellence and innovation in the automotive aftermarket industry. A Silicon Valley California Company, PLX Devices Bringing the Future. Visit http://www.plxdevices.com