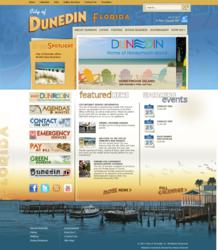 We feel we are putting our best foot forward with the launch of this well-designed website.
Dunedin, FL (PRWEB) July 27, 2012
The City of Dunedin is excited to announce the launch of a new City website – now live at http://www.dunedingov.com.
The rebuilt website integrates a number of new Gov 2.0 functions as well as a fresh design, intuitive navigation and a mobile platform that is compatible with all major smart phones.
"We are very happy with the look, feel and functionality of the new website," noted Courtney King, Public Information Systems Manager. "This is a big step forward for the City and we feel we are putting our best foot forward with the launch of this well-designed website."
Vision Internet was contracted to work with the City as a web development partner. Vision Internet specializes in city, county, and special district websites. They offer a government-focused content management system that allows easy access to administrators throughout the City to update the site.
"The site has been built to help us communicate better with our community and keep folks up-to-date with all things Dunedin," continues King. "We hope that residents visiting to the site will feel community pride and those outside the area will want to visit. The site is a reflection of Dunedin's spirit and captures our eclectic essence."
The new website was built around today's government website best practices. To ensure fair accessibility to all, the site is ADA (section 508) compliant and provides text-enlarging features to improve content visibility.
Visitors to the site can find an array of interactive functions:

Mobile friendly platform compatible with all major smart phones
City news and events streamed directly to the homepage
Easy-to-follow, user-focused navigation
Bookmark & Share links, RSS feeds, and printer friendly pages
Google maps
Searchable local business directory
Weather updates
Agenda and Minutes
Live streaming of Dunedin Television
On-Demand videos
Social media links
Online utility billing and recreation registration
Job postings
With the launch of this website, the City of Dunedin has cemented their commitment to effective communication and online outreach with the citizens of the community. The City can also be found on Facebook and Twitter as well as productions of Dunedin Television that can be viewed on the City's YouTube Channel (cityofdunedinfl).
To learn more about the government-focused technology that has rebuilt online communication for the City of Dunedin, please visit http://www.visioninternet.com/visioncms.
About Vision Internet
Vision Internet is the leader in government website development with over 400 clients across the US and Canada. For over 16 years, Vision Internet has been creating industry-defining websites built on leading technology including the government content management system, the Vision CMS™. Widely recognized as the government website experts, the company has earned hundreds of prestigious industry awards for its unique websites.