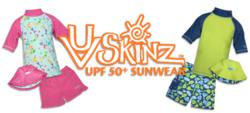 Our goal is to keep retailers ahead of the game by providing the best sun protection solution for their customers...
Sonora, CA (PRWEB) July 20, 2012
UV Skinz, a leading provider of UPF 50+ sun protective apparel, is proud to announce the company's inaugural exhibitor participation at the Outdoor Retailer Summer Market 2012 in Salt Lake City, Utah from August 2-5, 2012. UV Skinz encourages attendees of the 2012 Summer Market to visit booth #PV180 to learn about UV Skinz' wide array of sun protective wear and accessories and to find out just how UV Skinz is meeting increasing consumer demand for better sun protection solutions.
UV Skinz' attendance at the Summer Market is indicative of the company's dramatic growth over the past few years. "Sun protective clothing has been around for many years now but the category is just now starting to gain real traction among mass consumers ," explains Rhonda Sparks, Chief Executive Officer and President of UV Skinz. Sparks adds, "Our goal is to keep retailers ahead of the game by providing the best sun protection solution for their customers who are becoming more savvy about the benefits of UV protective swim and outdoor wear."
The National Cancer Institute reports that while many common cancer rates are falling, skin cancer rates within the U.S. continue to grow at alarming rates. Sparks says, "The recent delay in FDA sunscreen labeling requirements, the tanning bed debate and the recent Mayo Clinic report indicating that skin cancer rates have increased eight times in young women and four times in young men in just the past forty years, tells us that the need for proper sunscreen coverage is more critical than ever." Sparks continues, "The pain that skin damage and skin cancer causes is so preventable in so many cases. We are hoping that our presence at Outdoor Retailer will result in many new partnerships to help us reinforce lifelong sun safety habits."
Dermatologists are now recommending sun protective clothing as a first line of defense to help take much of the guesswork out of making sure consumers are properly protected from both UVB and UVA rays and to minimize the potential risks in relying on topical sunscreens. UPF 50+ protective sunwear, such as UV Skinz, helps to ensure maximum coverage over large parts of the body, requiring less topical sunscreen.
Sparks is no stranger to the tremendous damage that UV exposure can cause after losing her 32-year old husband to melanoma in 2001. Preventing their sons and all children from suffering the same fate is what motivated Sparks to create products that allow consumers to enjoy the outdoor venues in which they live without being concerned about skin damage from UV rays. UV Skinz provides consumers with a worry-free protective solution that Sparks hopes subsequent generations will wear as second nature. "UV Skinz makes sun protection easy and fun," Sparks says, "and we want kids to grow up wearing our Skinz as part of their lifetime skin protection routine."
About UV Skinz
UV Skinz is a leading provider of fun and affordable UV protective sunwear, swim shirts and accessories for the entire family. By providing the highest quality and hippest designs at competitive prices, UV Skinz aims to make sun protection effortless. For more information about UV Skinz, interviews, product samples and/or jpg photos, go to http://www.uvskinz.com , call 1 (877) 887-5469 or email kristine(at)uvskinz(dot)com.