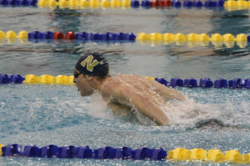 "I'm going to show people that I'm not going to let this beat me. I'm not going to let blindness build a brick wall around me. I am going to find a way forward." - Lt. Brad Snyder.
Grass Valley, CA (PRWEB) July 24, 2012
SargesList, a trusted resource for military classifieds, job-seeking, and military community resources, is supporting Navy officer, Lt. Brad Snyder and other veterans who are seeking meaningful life after combat.
Snyder, who lost his vision when he was injured by an improvised explosive device (IED) in Afghanistan on September 7, 2011, will be competing in the 2012 Paralympic games in London. Snyder, who was a competitive swimmer at the United States Naval Academy, will be participating in a number of swimming events at the Games.
One year to the day that the U.S. sailor lost his sight after stepping on a battlefield bomb, he'll be wearing American colors, swimming for gold, as he competes in the 400 meter freestyle.
To celebrate Snyder's valiant efforts in the Paralympics and honor his commitment to other wounded warriors, SargesList, the official sponsor of the Team Brad Fundraiser, will be hosting nation-wide events on September 7, 2012.
"I'm going to show people that I'm not going to let this beat me. I'm not going to let blindness build a brick wall around me. I am going to find a way forward, "said Snyder. "Participating in the Paralympics demonstrates to people there shouldn't be anything getting in the way of pursuing your own happiness or being successful."
Snyder credits the COMMIT Foundation with helping him transition into next phase of his life. As a way to thank the foundation, Snyder has requested proceeds from SargesList's fundraiser go to The COMMIT Foundation so other veterans may benefit.
SargesList is spearheading fundraising efforts that include corporate sponsorship, T-shirt sales, fundraising and the organization of worldwide events on September 7, 2012 at participating VFWs and local base establishments.
"We find with a little bit of extra time, thought and action, we can make a tremendous impact for our nation's veterans," said Anne Meree Craig, Executive Director of The COMMIT Foundation. For Snyder, this has included assistance in finding appropriate housing, furnishings, a job, pool time at Loyola University Maryland and contact with his coach, Brian Loeffler, who is preparing him for competition.
"When I heard that The COMMIT Foundation's founders poured their own personal finances into helping Brad reach his goals, I knew that we were partnering with a worthwhile organization. After 48,594 U.S military being killed and wounded from the War on Terror, Brad is standing strong for America on a very visible day so close to the anniversary of 9/11. It's a powerful message Brad is sending and I wonder if he even knows the significance yet." says Lisa Klinkhammer, CEO of SargesList.
Their collective goal is to raise $25,000.
The RED (Remember Everyone Deployed) "Team Brad" T-shirt to be worn worldwide on Friday, September 7, 2012, which was designed by Snyder and SargesList, is available through SargesList at http://www.teambrad2012.org.
Please join us by visiting http://www.teambrad2012.org to:

Register as a corporate partner
Purchase a T-shirt
Donate
Register to host a local event
Spread the word!
Company Information:
SargesList is a Veteran-owned company that provides trusted classifieds and local base information for military communities to buy, sell, trade and connect at over 500 installations around the world. SargesList is a one stop portal for military communities to buy and sell household goods, vehicles, homes for sale, find employment, local services, promote military spouse and veteran businesses and find local area information. Unlike other classified sites, it provides military families with a more trusted interaction by providing a Sarge Paw Stamp icon on listings and communications for users who register with their DOT MIL email. http://www.sargeslist.com
The COMMIT Foundation is a small nonprofit working to make a big impact in the lives of men and women as they transition from the uniformed services to the private sector. By harnessing the power of mentoring and relationships, COMMIT creates serendipity and ensures the first steps veterans take out of uniform are the right ones. COMMIT provides a great deal of personal attention to a small group of veterans who benefit from extra assistance. http://www.commitfoundation.org
###