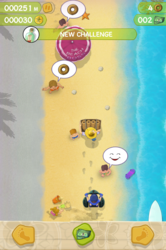 Paris, France (PRWEB) July 19, 2012
Chocolapps, widely known for their popular series of children's storybook apps, announce the release of their very first gaming app, The Beach Boss, a new casual game for iPhone and iPad users of all ages.
Designed for a single player, users assume the role of a local vendor who must make his way through a crowded beach of tourists selling food, trinkets and other merchandise. Collect coins for each successful transaction, but watch out for pets and police as they try to capture and kick you off the beach.
Being caught isn't a total bummer though: it allows players to make a quick stop in the in-app shop and buy additional gear with earned coins to help reach customers faster and make it farther down the beach with ease.
"Chocolapps is a leader in children's app entertainment and is excited to expand our audience with a fun summer themed game that everyone can enjoy playing," says Chocolapps CEO Michael Guez. "Our developers all come from a gaming background and were thrilled to put their skills to work developing The Beach Boss game."
The Beach Boss is currently available for free in the iTunes App Store.
Beach Boss Game Trailer: http://www.youtube.com/watch?v=yX54Ybm4VtY
Follow The Beach Boss on Twitter and Facebook for additional gaming tips.
About Chocolapps:
Created in 2010 by Michaël Guez, Chocolapps is the leading French company in educational apps for both the iPad and the iPhone. Chocolapps boasts four collections of interactive fairy tales which take children on a voyage of discovery and learning. These include kid e-books, the "Tell me Tom" series, and adaptations from original children's magazines into iOS apps and games.
Chocolapps first app, "The Three Little Pigs," launched on the very same day that the iPad became commercially available in France. The application was an instant hit and to this day remains a benchmark product within the industry. With more than 20 applications in all, Chocolapps mission is to work alongside parents to become a positive influence in a child's educational environment.