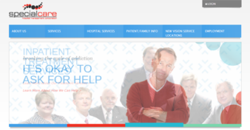 The Net Impact's design changes have given us a more subtle look and feel, making it much easier for our clients to navigate and locate information on our website
St. Louis, MO (PRWEB) July 19, 2012
SpecialCare, a national provider of medical stabilization services based in St. Louis, announced the launch of their newly redesigned website. SpecialCare's new website was developed and designed by The Net Impact, a web design and web marketing company with locations in Las Vegas and St. Louis.
SpecialCare is a national provider of medical stabilization to acute care hospitals from coast to coast. With locations in 16 different states, SpecialCare strives to provide quality service throughout the community. SpecialCare's website was designed with the goal of creating a softer feel to the site in mind. The new structure of SpecialCare's site is built to allow visitors to find the appropriate information with newly labeled tabs to help the visitor find what they are looking for quickly and more efficiently.
"The Net Impact worked to upgrade the SpecialCare website and has enhanced our web presence immensely. The Net Impact's design changes have given us a more subtle look and feel, making it much easier for our clients to navigate and locate information on our website," says Robert McNutt, CEO of SpecialCare.
With a softer color scheme throughout their website, SpecialCare's new look was designed to better relate to their audience. Their audience includes hospital administration, prospective employees and friends/family who suffer from addiction.
To meet SpecialCare's objectives The Net Impact suggested the corporation build their site with the global and multilingual content management system Auctori. Auctori is a secure, SEO friendly content management system that allows website administrators to make easy content updates and add web pages without the help of a web developer.
"Before building SpecialCare's website, our team strategized to develop the best way to relate to their audience. This resulted in a site that not only displays the professionalism of SpecialCare but it reflects the work they do as a company," said Mandy Christanell, Senior Manager of Design and Operations at The Net Impact.
About SpecialCare
SpecialCare Hospital Management Corporation is a national provider of administrative healthcare management services. The privately held corporation was founded in 1992 and its main headquarters is based in St. Louis, MO. The services provided are executed through a management contract between SpecialCare and tailored for the needs of the individual hospital. SpecialCare is the largest medical stabilization (substance abuse) service provider in the United States with over 350,000 patients treated. For more information on SpecialCare, please visit http://www.specialcarecorp.com, or call (314) 770-2212.
About The Net Impact®
The Net Impact, a web marketing, web development and design firm, is a division of Unidev®. Since 1997, The Net Impact has been a web development leader empowering clients with highly creative search engine friendly websites. Professional services encompass search engine and Internet marketing solutions, Internet strategy development, training and seminars and web design. For more information on The Net Impact, please visit http://www.thenetimpact.com, or call (636) 458-7772.