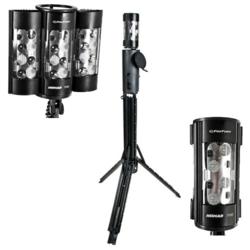 The Nomad 360 allows people to really see what's going on at a scene. A first responder, photographer or industrial professional can quickly, easily and single-handedly transport and deploy this light in the middle of nowhere
Vista, CA (PRWEB) July 24, 2012
FoxFury is pleased to introduce the new FoxFury Nomad 360, which will revolutionize portable scene lighting. This rechargeable, self-contained LED light gives the option of a 360 degree scene light or a powerful 12 degree spotlight without the need of a generator. The 7000 torch lumen Nomad 360 can be set up in 20 seconds, offers 3-20 hours of battery life and can fit in the trunk of any vehicle. Nomad 360.
The Nomad 360 is the second member of the Nomad family, which also offers the Nomad Prime (previously known as the Nomad 4000). Like the Nomad Prime, the Nomad 360 can be used as both a spotlight and area light. The main difference is that the Nomad 360 has an innovative design that allows the light head to be used as a 360 degree scene light if/when desired. The light head can also be transformed into a powerful 12 degree spotlight.
The Nomad 360 produces 7000 torch lumens of light. It has built-in legs and the light can extend up to 99" (251 cm) tall. It stows as a 38.5" (98 cm) tube for easy travel and storage. It weighs 23 pounds (10.4 kg) and can be set up and taken down in 20 seconds by one individual. Absence of a generator and cords enables the Nomad to be a safer, quieter alternative to generator-powered lights.
The Nomad 360 runs on a rechargeable Li-ion battery system. The light has three intensities of light and offers 3-20 hours of battery life.
"The Nomad 360 allows people to really see what's going on at a scene. A first responder, photographer or industrial professional can quickly, easily and single-handedly transport and deploy this light in the middle of nowhere," said Mario Cugini, CEO of FoxFury.
The Nomad 360 first debuted at the Firehouse Expo last week in Baltimore, MD. It will be on display this week at the IAI forensic conference in Phoenix, AZ.