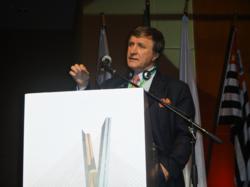 Rhinoplasty is a surgery of millimeters. It really epitomizes plastic surgery as a whole because it is a surgery of such great finesse and it takes years to master.
Dallas, TX (PRWEB) July 19, 2012
At the 32nd annual Jornada Paulista de Cirurgia Plastica in Sao Paulo, Brazil, Dr. Rod J. Rohrich presented on the use of modern techniques in rhinoplasty surgery which have shown to provide consistently good results and minimize the need for secondary or revision rhinoplasty.
According to Dr. Rohrich, the complicated nature of rhinoplasty results in an average revision rate of 15 to 20 percent, a number he would like to see improved. Rohrich, who has a personal revision rate of less than four percent year following nasal surgery, receives many referrals from around the world each year for primary and secondary rhinoplasty in Dallas, Texas.
"A patient recently told me she only wishes she had done as much research for her primary rhinoplasty as she did for her secondary surgery," Dr. Rohrich said, "and then maybe she wouldn't have needed the secondary nose job. That's exactly what we are after with these new advances and ongoing education."
"Our goal is to teach rhinoplasty surgeons word wide that with the use of these new techniques and by using the open approach to rhinoplasty, we can dramatically reduce the revision or 'redo' rate in rhinoplasty," says Dr. Rohrich.
In his talks and live video demonstrations, Dr. Rohrich emphasized the role of the open approach to rhinoplasty which allows surgeons to easily see the underlying nasal structures of the nose to correct and reshape them with much better precision. In turn, this allows surgeons to avoid the use of visible grafts which can compromise success rates and result in unnatural looking noses which are not well harmonized with a patient's facial features.
Dr. Rohrich, who has pioneered many of the techniques and technology used in open rhinoplasty today, describes rhinoplasty as one of the most difficult procedures in cosmetic surgery. "Rhinoplasty is a surgery of millimeters. It really epitomizes plastic surgery as a whole because it is a surgery of such great finesse and it takes years to master," explains Dr. Rohrich.
Dr. Rohrich also discussed the important role of using the underlying nasal cartilage in the reshaping of the nose to help provide a more natural appearance. These pioneering techniques were demonstrated in detail and discussed at length at this meeting with leading Brazilian plastic surgeons.
About Rod J. Rohrich, M.D., F.A.C.S.
Dr. Rod J. Rohrich holds the Betty and Warren Woodward Chair in Plastic and Reconstructive Surgery at UT Southwestern Medical Center in Dallas, Texas. He also holds the UT Southwestern Medical Center Crystal Charity Ball Distinguished Chair in Plastic Surgery. He is a graduate of the Baylor College of Medicine with high honors, with residencies at the University of Michigan Medical Center and fellowships at Massachusetts General Hospital/Harvard (hand/microsurgery) and Oxford University (pediatric plastic surgery). He has served as president of the American Society of Plastic Surgeons and currently serves as president of the Rhinoplasty Society. He repeatedly has been selected by his peers as one of America's best doctors, and twice has received one of his profession's highest honors, the Plastic Surgery Educational Foundation Distinguished Service Award, which recognizes his contributions to education in his field. Dr. Rohrich participates in and has led numerous associations and councils for the advancement of plastic and reconstructive surgery. He is a native of North Dakota and is married to Dr. Diane Gibby, also a plastic surgeon. They live in Texas with their two children.