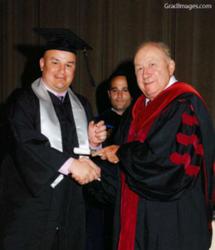 Lynchburg, Va. (PRWEB) July 18, 2012
Liberty University's bilingual program Liberty University en Español, which launched in the fall of 2011, is celebrating its first graduate after a successful inaugural year, in which the program has tripled its enrollment.
Javier Pimentel, a lay minister at Woodlands Church in The Woodlands, Texas, received his Associate of Arts Degree in Religion in May.
"I am proud to be the first graduate. I attended the Commencement ceremony in Lynchburg with my family this past May and it was incredible," he said.
Pimentel has led the way for more than 300 students who are enrolled in the program for the fall, a 200 percent increase from 99 students enrolled in 2011.
"Our Liberty University en Español faculty and staff are very proud of seeing students like Mr. Pimentel achieve their academic dreams," said Orlando Lobaina, executive director of LUE. "We know every student in our bilingual program has other responsibilities, and achieving a degree in an online format gives them the flexibility to accomplish their goals. We look forward to a larger group of Latino students graduating from our online bilingual programs next year."
Pimentel is one of five graduates who received their degrees through LUE this past academic year; he was the first to apply for graduation.
LUE offers accredited bilingual programs from the associate to master's level, all within a Christian worldview taught by fully bilingual professors and staff. With 12 unique programs of study, students can explore degrees in the fields of business, religion, ministry, psychology, counseling, criminal justice, education, and paralegal studies. In the fall it will debut a new certificate program in Biblical Studies entirely in Spanish.
Pimentel first learned about Liberty following one of the costliest tragedies in U.S. history.
"The way I learned about Liberty was after a prayer," Pimentel said. "I was living in Houston when Hurricane Ike hit us (in 2008). We had just bought our first home a few months before. That Saturday night with no power and the wind blowing, my family was asleep around midnight with the strong winds when the Lord talked to me and reminded me of that promise back at the camp (when he was 17, he felt the Lord calling him to be a pastor during a summer camp). I was like Jonah going hiding from my true calling."
He said the Lord protected them that night and nothing happened on his street, "not even debris, but surrounding us destruction and devastation was the common denominator."
Soon after, he and his wife, Carla, began looking at college opportunities.
"I started looking for schools and all of a sudden I found that Liberty was starting a program that was bilingual," Pimentel said. "I already had some college credits, so it seemed like the perfect combination. Liberty was literally an answered prayer."
Pimentel currently works for Kerry Shook Ministries, a worldwide television ministry with his church, and is certainly not finished with his education through Liberty. He immediately began work on his bachelor's degree in Psychology and Life Coaching with a minor in Church Ministries, which he will complete this fall. He hopes to begin his Master of Divinity through Liberty Baptist Theological Seminary next spring and earn his Ph.D. in Counseling soon after.
Pimentel will be entering the Air Force Reserve Chaplain Program, while his wife will be entering Liberty's graduate program in Marriage and Family Counseling next spring. Pimentel also hopes to become an online instructor for Liberty University En Español so that he can, in his words, "pass along my experience to other students and help this program to become the largest program (of its kind) in the United States and Latin America."
Liberty University, located in Lynchburg, Va., is the world's largest Christian university. Nearly 100,000 students attend classes on its 6,800-acre residential campus and study in its thriving online education program.