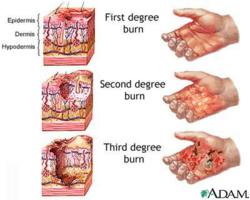 Gilbert, Arizona (PRWEB) July 20, 2012
These last two weeks we Arizonans have had a reprieve from the extreme temperatures with our monsoon season rolling in. However, this doesn't protect us from the effects of the sun. In the summer there are many places children can suffer burns. Of course the rays of the sun are the culprit for many burns or sunburns. But, there are other places that burns can happen. Many of the children burn their feet going out without shoes and there are the several burns from barbeques.
There are three types of burns, 1st through 3rd degree burns. All are treated differently, and one must be able to recognize the different burns.
A first degree burn causes reddening, inflammation and pain affecting the upper layer of skin, the epidermis. The effect of this burn is usually around 48-72 hours. Treating this type of burn which is usually minor is with cool compresses, cool bathes and pain relievers. Many people ascribe to the healing and soothing properties of Aloe and apply this to the skin as well. These types of burns increase the incidence of aging of the skin, but usually do not cause severe damage.
Second degree burns, which is like prolonged sunburn or a child walking out barefooted onto a hot pavement, affects the epidermis and second layer of skin, the dermis. This type of burn causes blistering and is more worrisome for damage to the skin that will lead to skin cancer. These burns if extensive can cause severe water loss and can be life threatening. Important to know when dealing with blistering burns is to never break the blisters open this leads to infection and scarring. Cooling and wrapping this type of burn in sterile gauze protects the skin. Slivadene or Silver Sulfadiazine 1% is an antimicrobial cream that should be used with dressing changes to prevent infection in burns. This along with good care to keep burns clean and free of trauma will allow the skin to heal well.
Third degree burns, affect not only the epidermis and dermis but go as low as the muscle and bone. These burns usually become painless as the nerves are injured in the process of the burn. These are associated with trauma from summer barbeques like propane fires or lighter fluid or scalding. These burns do not heal well and leave extensive scarring. Third degree burns are major burns and should be treated as an emergency. If clothing is burned do not remove and keep the burned area above the level of the heart. Also important is to cover the burn with some cool compresses to not only cool down but to keep moisture in the wound.
Overall if burns are treated diligently they lead to much fewer complications. However take caution if any burns start to be more painful, red, hot or start oozing fluid these are signs of infection. If the burns are extensive over the hands, feet, face, groin, buttocks or major joints this may lead to significant pain, discomfort or disfigurement so the evaluation by a physician needed.
Remember; be safe when out having summer fun. Be conscientious about using sunscreen between SPF of 15-50+, reapply every 2-3 hours and more frequently with water or sweating. Wear protective clothing and shoes if children go outside to play. Stay out of the sun for long periods between 10-4pm every day. Make sure that children and adults alike take the proper precautions when operating propane or lighter fluid. Keep the barbeques away from the house and playing children.
Summer can make a lot of memories just make sure to take the appropriate steps that they will always stay fond memories.
References: Mayoclinic.com and healthychildren.org
Southwestern Pediatrics Gilbert is located in the Spectrum Falls plaza at the intersection of Williams Field Rd and Val Vista Drive. We accept most insurances and have a self pay and payment plan options available. Make us your child's medical home... 2730 S. Val Vista Dr. Suite 161, Gilbert AZ 85295. 480-857-6316.
# # #