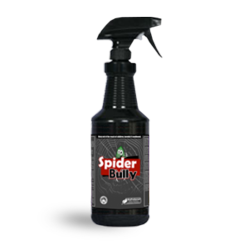 While the majority of the spider sprays are made with harsh chemical ingredients, Spider Bully is produced with the use of natural components.
Dallas, TX (PRWEB) July 21, 2012
To keep spiders away, there are spider sprays. However, same with pesticides and home cleaning products, not of all them can deliver their claims. In fact, most of them can bring in more problems than aid in getting rid of the arachnids. But MyCleaningProducts' Spider Bully is different from any other spider repellant in the market. Hence, the company highly recommends the use of it to mothers and professional home cleaners.
While the majority of the spider sprays are made with harsh chemical ingredients, Spider Bully is produced with the use of natural components. And that is the basic thing that makes it a unique and a better pick among the spider repellants today.
Order the Green Spider Bully Today
Basically, Spider Bully is classified as a pesticide exempt solution as stated under Appendix APR Notice 200-6. That is, its formulation is not like the conventional pesticides. And so, it presents no health risks like the common pest products do as dizziness and breathing difficulties.
Particularly, however, it is the natural oils used in the product that actually makes it different. It contains mint oil, clove oil, citronela oil and rosemary oil. All of those, combined with other ingredients, makes an effective and safe spider spray.
Nonetheless, Spider Bully is just one of the green cleaners of MyCleaningProducts. But just like the green spider repellant, MCP's other cleaners are also made with natural ingredients. And with that comes the fact that all of them also brings in health and environmental benefits. Not to mention, their effectiveness also helps cut cleaning expenses and even boosts cleaning professionals' profit.
See the Complete List of MyCleaningProducts' Green Cleaners
There is a wide variety of cleaners under the banner of MyCleaningProducts. It got pest-control solutions to which Spider Bully is an example. Among its other pest-control products are Bed Bug Bully, Silverfish Bully, Ant Bully and Roach Bully.
The company also got green solutions for mold removal and rust removal. Its mold remediation products are called Molderizer and Safe Shield. Its solution for rust and its stains is called Rusterizer. And apart from those three classifications, there are many other cleaners that the company offers.
With each of its product, the MCP infuses wellness by adding natural fragrances. The fragrances create a zen-like atmosphere. Hence the use of its green cleaning products makes an area relaxing after the treatment.
But the good things about MyCleaningProducts don't just end with its cleaners. Often the company also gives deals for big savings. And for this week, to celebrate the launching of its Spider Bully, it's giving out a 10 percent discount and a free shipping to its client. Buyers just need to enter code "pr10" at checkout to take advantage of the price cut.