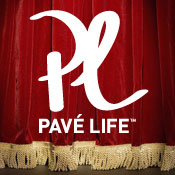 "Pavé Life is designed for people who enjoy the arts and culture, and now we want to help make those nights out even better with our expansion into show packages with premium restaurants and luxury hotels." CEO, David Hack
Darien, Connecticut (PRWEB) July 19, 2012
Pavé Life, a website offering exclusive deals on arts and cultural events, will soon launch a new website, complete with changes to site design and the ability to create custom show packages. The new site will feature discounts on luxury hotels and premium restaurants in addition to the premium arts entertainment already offered. This shift in packaging, branding, and strategy will cement Pavé Life's aggregation of arts and culture space and online ticketing across seventy cities in the U.S.
Pavé Life already presents customers with exclusive offers on high-end luxury entertainment, including:

Ballet
Opera
Theater
Symphony and Orchestra
Museum Events and Exhibits
Musical Performances
Comedy Shows
These deals will still be available daily, but subscribers can now customize their own high-end show packages with all of these types of entertainment, plus options to add dinner and/or a hotel stay.
"Pavé Life is designed for people who enjoy the arts and culture, and now we want to help make those nights out even better with our expansion into show packages with premium restaurants and luxury hotels." said Pavé Life CEO David Hack.
The new website makes access to Pavé Life's exclusive entertainment deals even easier. Once customers purchase event tickets, Pavé Life's new website will include the option to turn an ordinary show into a "glittering evening" by adding upscale restaurants and luxury hotels at even further discounts.
Pavé Life's new website utilizes a new technological structure, allowing merchants such as restaurants and hotels to specifically choose the dates they'd like to open their doors to Pavé Life customers who are already out and about in their city enjoying premium arts entertainment. This new system gives restaurants and hotels complete flexibility in terms of filling empty tables and empty rooms during off-peak times. Additionally, Pavé Life's new technology allows its merchants to customize offerings and prices according to what works best for their business. Visit our site to learn more about becoming a partner or email us at becomeapartner@pavelife.com.
Pavé Life, http://www.pavelife.com, will remain free to register after the new site launch in early August 2012, and for a limited time new users will automatically receive a $20 credit towards their first event purchase. All tickets are reserved on the customer's behalf by Pavé Life and can be picked up at the box office, further removing the hassle of ticketing. Be sure to check out Pavé Life's new website in early August to create your own night out at irresistible prices.