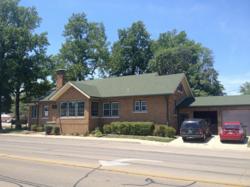 Having a website that is readily available to people is important because more people are using the internet to seek out information.
Springfield, IL (PRWEB) July 19, 2012
Springfield Family Dentist, Dr. David Milner of Milner Dentistry has announced the launch of a new, patient-focused website. The practice recently launched the new website created by dental website design leader, ProSites, Inc. The website contains many interactive features including patient education videos and a free Smile Analysis that helps patients make better informed decisions about their oral health. The website also utilizes extensive search engine optimization techniques to reach patients and local consumers who are searching for relevant information about Springfield, IL cosmetic dentistry.
"We created a user-friendly space for people to explore, learn, and gather information about their oral care needs," explains Dr. David A. Milner.
Current and prospective patients now have access to information about providers, educational videos, before and after photos of dental procedures, and other informative content when they visit the website. Some of Dr. Milner's services include:
Cosmetic Dentistry
Mini Dental Implant Placement
Implant Restorations
6 month braces
Invisalign (Coming soon)
Patients can also learn more about the doctors and office staff using the website. This includes the addition of a new doctor to the practice. One of the unique things patients enjoy about Milner Dentistry is that the practice is owned and run by family. Dr. Ty D. Milner recently joined his father to continue the family practice and more importantly to continue providing quality oral health care to existing and new patients of Milner Dentistry.
"I feel extremely honored to be working side-by-side with my father. He has built this practice from the ground up over 20 years ago, and I am proud to have the opportunity to continue our family practice for years to come. I am looking forward to meeting and caring for our current and new patients," says Dr. Ty D. Milner.
About Milner Dentistry
David A. Milner, DMD established his dental practice in Springfield, IL more than 20 years ago. Milner Dentistry continues to provide patients with very high quality oral health care in an atmosphere that the patients feel comfortable in. The practice staff has largely remained family over the years; Dr. David A. Milner, Usa Milner (office manager), Dr. Ty D. Milner, and Betty Wade (practice receptionist). Betty has worked at Milner Dentistry since 1995. For more information about Milner Dentistry, visit their website at milnerdentistry.com.