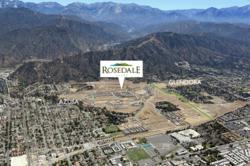 "There is a wonderful sense of village living and energy."
Azusa, CA (PRWEB) July 19, 2012
On July 21, master-planned community Rosedale in Azusa will observe its one-year anniversary by welcoming its residents and the public to a celebratory event at Rosedale's 4,500 square-foot community focal point, The Resort. The free event will take place from 10 a.m. to 3 p.m. at 740 E. Sierra Madre Ave in Azusa.
During the event, guests will enjoy tours of The Resort, which features a private clubhouse and two-acre recreation center with a fully equipped fitness room, Junior Olympic swimming pool, spa, wading pool and outdoor fireplace. The first 250 guests who arrive will receive a complimentary gift. Guests will also enjoy music, and gourmet food trucks throughout the community, including Coolhaus, Don Chow Taco, Boba Truck, Tropical Shave Ice and Sugar Babies. 20 model homes throughout the community will also be available for tours.
"On July 21, we'll celebrate the residents that call Rosedale home, as well as the addition of new model homes and community amenities that make Rosedale in Azusa such a terrific place to live," says Carina Hathaway, Vice President of Marketing for Rosedale Land Partners, LLC, the developer of Rosedale. "Since Rosedale's re-launch in June 2011, the community has grown in size, opportunity and heart, and we're excited to share this with the greater southern California community."
The San Gabriel Valley master plan, which re-launched under new ownership (Rosedale Land Partners, LLC) last June, has become a bustling, growing community. In just 12 month's time, Rosedale has become home to more than 250 new families. In the first six months of 2012, Rosedale garnered more new home sales than any other master-planned community in the greater Los Angeles region.
Also this year, Rosedale welcomed a fifth builder, TRI Pointe Homes, who grand opened new neighborhood Tamarind Lane in early July.
"Since the re-launch, we've welcomed new builders, floor plans and price points, providing greater variety to home shoppers. This, plus historically low interest rates has provided families with a wonderful buying opportunity at Rosedale," adds Hathaway. "Between new homes and various community improvements, Including new streets, sidewalks, landscaping, parkways, entry monuments and the completion of five new neighborhood parks, we've had a very progressive first year at Rosedale."
Currently, 50 percent of Rosedale's planned parks are now complete, with two more scheduled for completion later this year. Current and future amenities at Rosedale include 10 neighborhood parks, equipped with picnic tables, play structures, gardens, shade pavilions and barbecues; and 5.5-acre Promenade Park equipped with youth sports fields, and basketball and multi-use courts.
"Rosedale Land Partners, the master developer, has done an incredible job communicating with the existing homeowners," Rosedale resident Maureen Short said. "There is a wonderful sense of village living and energy. It's been fun watching the community evolve into such an exciting place to live."
About Rosedale:
Rosedale currently offers eight different new-home neighborhoods to choose from. The neighborhoods offer a variety of floor plan designs that range from townhomes to luxury detached residences. Floor plans range from approximately 1,346 to 3,900 square feet and include two to six bedrooms and two to 4.5 bathrooms.
Residents have access to more than 100 trails, including the nearby Garcia Trail located adjacent to Rosedale, as well as the enjoyment of preserved heritage trees and historic oaks and palms located throughout the community. Though highly connected to nature, residents are only 25 minutes from Downtown Los Angeles. A nearby Metro Gold Line boarding station — scheduled to open in 2015 — will provide homeowners access to rail transportation to Downtown Los Angeles, and Orange and San Bernardino counties.
Rosedale, nestled in Azusa's foothills, answers to a variety of price points with homes from the high $200,000s to the high $700,000s. To learn more about Rosedale, visit LiveRosedale.com or call (800) 928-1275. To see what's going on in the community, visit https://www.facebook.com/liverosedale.
About Rosedale Land Partners:
Ownership and development management of the 518-acre master-planned community of Rosedale in the city of Azusa, CA is a partnership between Brookfield Homes, Christopher Development Group (CDG) and Starwood Capital Group. As Rosedale Land Partners, these companies bring together the necessary depth of large-scale community planning, development and financing experience required for the successful implementation of community-based master planning and development. For more details, please visit http://www.LiveRosedale.com.