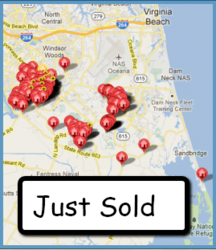 "Just Sold Virginia Beach is an important asset to both buyers and sellers....I use it often"
Investor
(PRWEB) July 19, 2012
Now searching for Virginia Beach Sold Homes, Condos, and Real Estate just got easier. Just Sold Virginia Beach Homes and Real Estate web page offers a one-stop destination and resource to buyers and sellers to research recently sold properties.
Just Sold Virginia Beach Homes, Condos, and Real Estate provides the potential buyer the ability to research just sold homes by neighborhood, type of home, price range, bedrooms, baths, schools, and much more. This provides the Virginia Beach buyer much needed information prior to making a purchase offer. The seller reaps the benefit of knowing what real estate home and condo settlement values may be.
Just Sold Virginia Beach Homes, Condos, and Real Estate offers the potential buyer the opportunity to sign-up to receive daily email notifications of sold properties or use the RSS Feed available. Most new real estate buyers, sellers, and "lookers" can simply bookmark the page and return when convenient.
Purchasing or selling a Virginia Beach home, condo, or real estate requires the buyer/seller be informed and conduct due diligence. Due diligence may require inquiries about any incentives offered in the "Just Sold" listings including closing cost assistance.
Also, it is very important that the buyer or seller considering a transaction of a home or condo consult an Agent to represent their interests.For the new buyer, the Buyer's Agent can provide financing alternatives, provide objective data about the area and other homes for sale, explain home owner association documents, negotiating expertise, solve issues that may arise with builders, coordinate inspections, provide periodic on-site visits and updates on the construction process (and pictures), and ensure that a smooth and problem free closing occurs. The seller of a home also needs exclusive representation to List, Market, Negotiate, and guide the real estate to the "Just Sold" conclusion.
Using the Just Sold Virginia Beach Homes, Condos, and Real Estate website is an easy, no-hassle way to browse communities and view "sold" homes in favorite neighborhoods. It is available now for viewing.
Dennis Blackmore, REALTOR® with Creed Realty, Virginia Beach, VA provides Buyer and Selling Agent services to home and condo owners. He is a ready resource for all real estate matters.