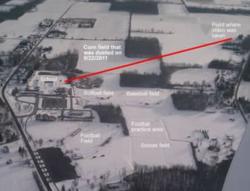 Children should not be diagnosed en masse with mental illness when their homes, the water they drink and the environment where they play their sports have yet to be thoroughly tested for neurotoxins." Ginger Taylor, Executive Director, The Canary Party
Washington, DC (PRWEB) July 19, 2012
This week, Mark Blaxill, Chairman of The Canary Party, revealed in an article written with Dan Olmsted, that they had uncovered new information in the story of a small New York town that made big headlines last October when schoolchildren there began developing unexplained tic disorders. The Canary Party calls for a new inquiry by officials in light of this videotaped evidence.
As has been reported beginning late last year, many teens in the LeRoy, NY area have suffered seizures, blackouts, motor problems and difficulty breathing. Eventually 18 victims were identified, mostly female, but local authorities and pundits quickly wrote off the cluster as psychogenic in origin.
Now Blaxill and Olmsted have reported their discovery that an agricultural field adjacent to the LeRoy, N.Y. school playing fields had recently been aerially sprayed with the pesticide Bifenthrin – known by its trade name Tundra – which paralyzes the nervous system of insects. Lab studies show that Bifenthrin causes similar symptoms of nerve damage in mammals. The National Pesticide Information Center says clinical studies on rats given high doses of Bifenthrin showed development of "tremors, clonic [rapid muscle contraction/relaxation] convulsions, twitching, incoordination, staggered gait, splayed hind limbs, atypical posture."
Olmsted and Blaxill learned that on a school day last September, a LeRoy, N.Y. resident videotaped an airplane spraying a cornfield adjacent to the school several times with what was later determined to be Bifenthrin. Blaxill reported that the videotape had been sent to New York State's Department of Environmental Conservation, where Olmsted and Blaxill obtained it via the Freedom Of Information Act. Internal notes from the Department of Environmental Conservation show it ruled out crop-dusting. "We were floored that this detailed report by a neighbor of the school existed in the state records, along with video tape of the spraying, and yet pesticide spraying had been ruled out as a cause before even investigating it," Blaxill said.
Bifenthrin was banned in Europe until only last week.
Olmsted and Blaxill wrote at the Age of Autism, "Officials told us then that the school's pesticide log was examined as part of the initial investigation but, because no pesticides were applied on school grounds during the preceding year, pesticides were ruled out as a factor." Olmsted and Blaxill said their latest inquiries to the school district and an environmental consulting firm were not yet answered, saying, "There is no evidence that the crop-dusting on September 22, or any other date, was part of any investigation."
In light of this new evidence, The Canary Party calls on New York officials to reopen the investigation and consider carefully the potential role that Tundra may have played in the neurological symptoms seen in the young people in LeRoy.
Ginger Taylor, Executive Director of the Canary Party, echoes the statement the Party made last March that summarized the sorry state of the LeRoy tic investigation. "Children should not be diagnosed en masse with mental illness when their homes, the water they drink and the environment where they play their sports have yet to be thoroughly tested for neurotoxins."