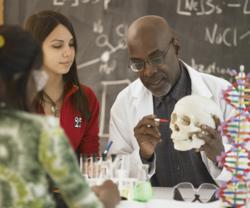 The [new STEM Master Teacher Corps] proposal will help California and the U.S. swiftly build a world-class STEM teaching workforce and is an instrumental investment in our economic future." said Chris Roe, CEO of CSLNet
San Francisco, CA (PRWEB) July 19, 2012
The California STEM Learning Network (CSLNet) and leaders from business and education are praising President Barack Obama's proposal to strengthen STEM education in America through a new STEM Master Teacher Corps that would develop and recognize talented teachers in science, technology, engineering and math.
"It is indisputable that STEM education is critical to our student's success and our state's leadership role as a global innovator," said Chris Roe, Chief Executive Officer of CSLNet. "And the single most important factor in determining if a student will be successful is if she or he has a high quality teacher. This proposal will help California and the U.S. swiftly build a world-class STEM teaching workforce and is an instrumental investment in our economic future."
The administration would initially identify and support 50 Master STEM Teachers at 50 different sites, with plans of growing over four years to reach 10,000 Master Teachers. The plan is pending a $1 billion commitment from Congress.
According to a White House press release, the STEM Master Teacher Corps will "recognize and help retain America's most talented STEM teachers, build a community of practice among them, raise the profile of the STEM teaching profession, and leverage excellent teachers to collaborate with their peers to strengthen STEM education in America's public schools."
The Obama administration also announced plans to provide an immediate $100 million from the existing Teacher Incentive Fund to help school districts establish career ladders that identify, develop and leverage highly effective STEM teachers.
In California, where students' science and math scores rank among the lowest nationally, there is widespread agreement about the vital importance of improving STEM education to maintain California's ability to compete in a global economy.
California employers currently report not being able to find enough qualified workers to fill STEM jobs and by 2018 California will need trained STEM graduates to fill more than one million expected STEM jobs, by far the most of any state.