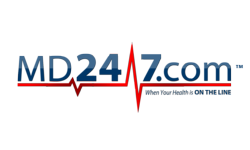 MD247.COM Reviews Telemedicine.
Tampa Florida (PRWEB) July 19, 2012
The phrase "snake oil" is a derogatory term used to describe either fraudulent or unproven medical practices, and has been synonymous with the field of telemedicine. MD247.COM Founder Thomas Meehan appreciates that distrust and caution act as the parents of security, but he is not comfortable standing idle while a respectable field that can help supplement health is scorned. Rather than just holding his tongue, allowing the public to slowly warm to the idea of medicine paired with advanced technology, Meehan and MD247.COM launched a wide-scale educational blogging campaign on Wednesday.
The MD247.COM educational blogging campaign was launched on the company website, and is then scheduled to be filtered through several blogging accounts assigned to the company. The goal of the campaign is to allow MD247.COM reviews of specific ideas behind telemedicine, health tips and even general interest articles about the company to form a picture of the telemedical field for readers. It is Meehan's desire to take the people who see telemedicine as a ripoff report incident, and allow them to see that there is no need to be a scam informer.
In addition to a campaign to build understanding of telemedicine through MD247.COM reviews of telemedical topics, the company is also conducting a wide scale hunt for additional competent writers. Meehan prefers that the writers have an interest in medical topics, but he is willing to consider anyone with a talent for the written word.
Largo Florida based MD247.COM (MD247; MD/247; MD 247; M.D.247; MD-247) provides an affordable telemedicine supplement to existing healthcare services. MD247.COM telemedicine program members have unlimited telephone access to a nationwide medical support team, all with just a single phone call to the MD247.COM telemedicine Talk to a Doctor/Talk to a Nurse Hotline. MD247.COM has a virtual platoon of registered nurses; board certified physicians and a support staff available to members for all non-emergency situations. More information about MD247.COM is available online at http://www.md247.com.