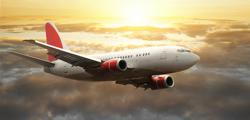 (PRWEB) July 19, 2012
InsanelyCheapFlights.com released its list of the top ten things to see in California, while at the same time announcing discounts on flights to the Golden State. Travelers looking to check out the west coast can book cheap tickets to Los Angeles, San Diego and San Francisco with a promotional code provided on the website's homepage. After arriving in California, be sure to check out these sites:
1. Hollywood
It's the one stop all visitors to California must make. Take a trip down Hollywood Boulevard and stop to do some celebrity star spotting outside the famous Chinese Theatre. Take in the sights before heading north and hiking up to the iconic 'Hollywood' sign.
2. Laguna Beach
Most recently made famous by a TV show of the same name, Laguna Beach is amongst the most cherished beaches on California's Pacific Coast. A surfers' paradise with year-round sun and seven miles of sandy beach, visitors won't want to leave this place in a hurry.
3. Palm Springs
Made famous as a sunshine getaway for some of the world's best known movie stars and singers in the 1950's, Palm Springs may be a desert city but it has plenty to offer for all generations. Enjoy the year-round warm climate and take a trip on the Ariel Tramway. Then head Downtown to enjoy the 50's ambience, a wealth of fine dining and a giant Marilyn Monroe statue!
4. Golden Gate Bridge
Just one of the many reasons to visit San Francisco, the Golden Gate Bridge is another must-see landmark for visitors to the Golden State. Ride a tour bus across, then stop to take your own pictures of what is the most photographed bridge in the world.
5. Alcatraz
Staying in San Francisco, it's now time to hop on a ferry and take the short ride over to the island of Alcatraz. Famous as a prison island for some of the country's most notorious criminals, Alcatraz has also been the subject of a host of movies and TV shows. Take a guided tour around the prison itself and enjoy the view of Fisherman's Wharf.
6. Big Sur
One of the most jaw-dropping stretches of coastline on the planet, Big Sur lies peacefully on California's Pacific coast, between Los Angeles and San Francisco. Filled with an abundance of wildlife, rare birds and stunning scenery, a trip to Big Sur will be the highlight of any Californian trip.
7. San Diego Zoo
Possibly the best known zoo in the world, the San Diego Zoo is home to almost 4,000 animals from over 600 species. First opened to the public in the early 1920's the San Diego Zoo is one of the most visited attractions in southern California.
8. Lake Tahoe
Right on the border of California and Nevada, Lake Tahoe needs to be experienced from both the North and South shores. Spend your day enjoying the many activities available out on the lake, then settle down with a glass of wine and enjoy a stunning California sunset.
9. Beverly Hills
It's another famous location, high on the lists of must-see locations for California visitors. An extremely affluent and well-kept area of Los Angeles, Beverly Hills is best experienced by car or bus. Take a tour or do it yourself and see how many celebrity homes you can spot.
10. Yosemite National Park
Best known for its stunning waterfalls, awe-inspiring cliff faces and abundance of wildlife, Yosemite National Park is visited by almost four million people every year. Take a captivating bus tour of the area by day or secure a permit and camp out for the night.
With a near endless supply of sun and attractions, California makes for a great vacation destination. To obtain the discount on flights to California, travelers can use the promotional code found on the site when booking travel. The discount applies to service fees and flight bookings only.