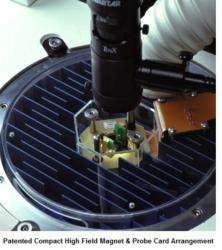 Santa Clara, CA (PRWEB) July 19, 2012
Nanounity announces that their principal, Mountain Scientifics, Inc. headquartered in Longmont, Colorado has just secured an order for its new QSW-Express STT-RAM wafer level prober from a leading semiconductor equipment manufacturer.
"The QSW platform, consisting of a patented compact high field closed-loop magnet and probe card arrangement, is the tool of choice for STT-RAM device manufacturers, and this opportunity to provide a top semiconductor equipment company is another milestone achievement for the team at Mountain Scientifics" stated Ben Cendana, Co-founder & Vice President of Nanounity's STT-RAM & HDD Business Unit. The QSW was released in 1999 and continues in the tradition of providing innovative and elegant solutions for the testing of advanced STT-RAM devices and Hard Disk Drive recording heads.
About Nanounity
Nanounity is a sales and distribution company, specializing in nanoscale imaging and analysis instrumentation, servicing and supporting research and engineering at universities, government laboratories, and industrial companies. Product offerings include Atomic Force Microscopes, Scanning Electron Microscopes, Stylus and Optical Surface Profilometers. More information about the company can be found at http://www.nanounity.com.