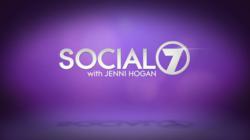 We're honored to have the opportunity to work with Jenni on such a revolutionary program.
Seattle, WA (PRWEB) July 18, 2012
Comedian Michael Yo, and Huffington Post writer and supermodel, Susan Holmes-McKagan will star on this week's Social7 with KIRO 7 anchor Jenni Hogan, along with Microsoft employee Ben Rudolph - a self-proclaimed gadget geek who is better known as "Ben the PC Guy". Social7 covers 7 of the most current, hip, and relevant topics that mix life with social media.
Michael Yo, the self-proclaimed "Half-Black Brother with a Korean Mother", was born and raised in Houston, and got his radio start in Austin more than 10 years ago. He also worked in radio in Houston before moving to his other "hometown" of Miami, where he manages to stay dedicated to his Michael Yo Show on Miami's Y100 as the afternoon drive host. He is currently a regular roundtable panelist on E!'s hit show, Chelsea Lately, with Chelsea Handler.
Susan Holmes-McKagan is a successful swimwear designer, as well as the wife of musician, Duff McKagan (Guns N'Roses, Velvet Revolver). She enjoys having a successful design company, in which she also gets to contribute back over 10% to wonderful charities like "Project Angel Food", "Surfrider Foundation" and the Red Cross for natural disaster victims. Holmes-McKagan has recently become a featured writer on Huffington Post, dedicating most of her time to her family, including her two young daughters.
Ben "The PC Guy" Rudolph is technically a senior public relations manager, but he's becoming better known as "Ben the PC Guy." He's been described as kind of a cross between Inspector Gadget and Rambo – though his arsenal is the latest high-tech PCs from a variety of hardware manufacturers. Rudolph revels in helping match users with the perfect PC, and took the "Smoked by Windows Phone" challenge to CES, to show the world that Windows Phone is simply faster at the everyday stuff that people do on their smartphones.
Jenni Hogan is the morning traffic anchor for KIRO-TV in Seattle. She joined KIRO in the fall of 2008 and has been a front runner in social media, bringing a new dimension to television. Her new show, Social7 has been a resounding success, trending both nationally and worldwide while it airs, and garnering support from celebrities and small businesses alike. Social media team, RoryMartin.com, says the success of Social7 stems from Hogan's enthusiasm, and the community of social media advocates she's gathered around both herself and the show.
Last month, Martin participated in the Sports Art Green Fitness Challenge against Hogan on Social7, to find out who could create the most people-generated energy using one of the Green System machines. This month, he'll be choosing material for the live Twitter Ticker that will stream viewers' tweets during the show. Of the experience, he says, "We're honored to have the opportunity to work with Jenni on such a revolutionary program."
The basis of the show is that audience users get to choose their own programming through tweets and Facebook posts. This month, the deal is a little sweeter. At 6:00pm, Hogan will host a half hour of Seattle and Social7 trivia, prior to the live show. The prize, a $250 Target gift card, will go to the Twitter user who answers the most questions correctly. Users who follow the Twitter account @TargetSEA to play along are eligible to win prizes.
Social7 airs Thursday, July 19, 2012 at 7:00pm, on KIRO7 Eyewitness News.