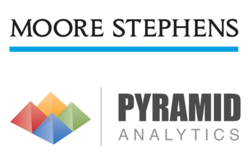 The Pyramid Analytics product set provides a modern web platform combined with an intuitive interface increasing the value of Microsoft's SQL Platform
Amsterdam, Netherlands (PRWEB) July 19, 2012
In response to increasing demand for its SQL Server Analysis Services (OLAP) BI platform in Europe, Pyramid Analytics is developing a partner network across the region. Headquartered in London, Moore Stephens Consulting comprises a team of experienced professional services and BI experts and provides access to a range of customers in the insurance market and other sectors.
"We are looking forward to the partnership with Moore Stephens as part of our plan to realise the growth potential that exists for Pyramid Analytics' Microsoft SQL-based products" said Steve Cowell, Regional Head, UK & Ireland at Pyramid Analytics. "The team at Moore Stephens has specialist knowledge, particularly in the Insurance markets and knows how to implement technology to meet practical, real life business needs and we welcome the opportunities they will provide for both customers and Pyramid".
Andy Galli, CEO and Partner at Moore Stephens Consulting, said "Moore Stephens has specialised in Business Intelligence and Data Warehousing for a number of years and we are recognised as expert in this area by our clients. The Pyramid Analytics product set provides a modern web platform combined with an intuitive interface increasing the value of Microsoft's SQL Platform and, as such, will enable our clients to implement BI programmes swiftly, delivering powerful analytics into the hands of users".
Commenting on the appointment of Moore Stephens, Herbert Ochtman, EVP of Sales & Business Development at Pyramid Analytics, said "We are delighted to welcome Moore Stephens into our Worldwide Partner Programme. The Moore Stephens team has an excellent pedigree in Microsoft SQL-based BI tools – specifically, their prior experience with the ProClarity toolset gives them an opportunity to continue to support many of their clients who had implemented this previously and are now looking for an upgrade route".
About Pyramid Analytics
Pyramid Analytics delivers intuitive enterprise level Business Intelligence through an integrated, rich and highly scalable dashboard and analytic application for all types of business users. Using Microsoft's Office concept, the BI Office or "bioSuite" range is custom designed for Microsoft SQL Server and Analysis Services and is accessed through a single, web-based familiar interface.
Pyramid Analytics has a Microsoft ISV BI Gold Competency and is headquartered in the Netherlands with operational centres in Israel, the EU and the USA.
About Moore Stephens Consulting
Moore Stephens Consulting (MSC) is recognised as the market leader in the provision of data warehousing and business intelligence solutions to the insurance industry. From the start ten years ago, MSC has focused almost exclusively on delivering value to its customers through management information and performance management solutions.
MSC's team of professionals combined technical expertise with insurance knowledge to create the bIntelligent suite of solutions specifically tailored for insurance needs. Using years of experience working with companies across the insurance market and a large number of successful data warehousing and analytics reporting implementations, MSC has developed the bIntelligent Insurance Framework. The Framework is an established model and set of processes for managing data through structured stages of warehouse development to deliver core management information and KPIs. It consists of proven market leading components supporting best practice principles and provides a solid and reliable base for handling data across the organisation.
Using our extensive experience and expertise in the insurance industry, MSC is committed to helping its clients exploit the true value of data and to use its potential to achieve future business success.
MSC is a wholly owned subsidiary of Moore Stephens LLP, which is part of Moore Stephens International Limited a global accountancy and consulting network, headquartered in London with member firms in 636 offices in 100 countries, and over 21,000 partners, principals, and staff.