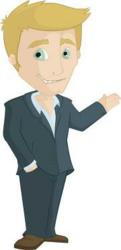 It's clear that Jonathan (Budd) and Mark (Hoverson) have put an enormous amount of time and effort into this project. Very rarely do you see this level of value released in a product..."
Austin, Texas (PRWEB) July 19, 2012
BetterNetworker has teamed up with some of the biggest names in the Internet marketing industry in order to help support the launch of Futuristic Marketing, a revolutionary new marketing course developed by Jonathan Budd and Mark Hoverson.
Spearheaded by Tim Erway, CEO of Magnetic Sponsoring, this group has been dubbed "Team Vicious and Delicious," and includes top marketers Ryan Angelo, Raymond Fong and Ferny Ceballos, Andrew Cass, Didi Alcheva, Curt Maly, Katie Freiling, Mia Davies, Michael Force, Maria Andros, Adam Chandler, Jordan Schultz, David Schwind, and Amanda Murray Robertson.
"This really is a 'dream team' we have going on right now," says Jesse Jameson, CEO of BetterNetworker. "This is an incredible opportunity for some of the biggest and most talented marketers in the industry to pool their strengths in support of Jonathan and Mark, and we're honored to be a part of it. This is going to be huge."
A lot of buzz has been generated in particular over the prizes that will be given away during the launch, the most illustrious of which is an Audi R8 formerly owned by Mike Dillard, the "Godfather of Attraction Marketing," which is estimated to be worth over $130,000. Other prizes include a new MacBook Air computer and an Apple iPad.
The launch kicks off with the release of 3 videos, titled "Your Results," "Futuristic Traffic," and "Futuristic Influence." Thus far, the response to the launch has been overwhelmingly positive, with big and small earners alike jumping on board in support.
"[Video 2] really did make me think about tracking and improving and focusing on income-producing activities - I recognize I have the knowledge and know what to do, but sometimes it's just fitting it all in, in the most productive way!" says Nicky Price, an ABN member on BetterNetworker.com.
Andrew Draughon, senior editor of BetterNetworker, says he has been very impressed with the quality of training in the two videos that have been released to this point. "It's clear that Jonathan and Mark have put an enormous amount of time and effort into this project," he says. "Very rarely do you see this level of value released in a product, and so we're really excited to share this with our community members."
BetterNetworker previously supported the efforts of Mark Hoverson in 2011, during the launch of his "Irresistible Info-Marketing Blueprint" product. This marks the first time BetterNetworker will be working to support Jonathan Budd.