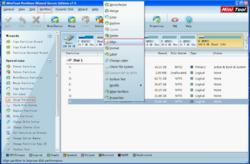 Increase disk performance by 10% with Minitool® Partition Wizard v7.5
Vancouver, British Columbia (PRWEB) July 20, 2012
MiniTool Solution Ltd. released partition manager software MiniTool Partition Wizard 7.5 July 2012 to public. Disk Align and Partition Align are now included into this new version. This is one of the most wanted features for many advanced user and SSD user.
Aligning disk partitions can help reduce the number of unaligned writes and optimize hard drive performance. Based on our test, after disk partition aligned by MiniTool Partition Wizard. Disk read and write performance can increase by 5-10%. Especially for SSD device. Disk alignment can increase disk performance and disk lifetime. It is highly recommended for SSD user to use Minitool Partition Wizard to align disk partition.
Disk alignment and partition alignment features are added as free features. Home user can download Partition Wizard Home Edition and increase disk performance without any cost.
With over 5 millions downloads all over the world, MiniTool Partition Wizard is one of the most popular partition manager software for home user and business user. As partition magic alternative software, MiniTool Partition Wizard has different license targeting different users and operating systems:
Partition Wizard Free Home Edition: Absolutely free for regular home users.
Partition Wizard Professional Edition: Added merge partition, support dynamic disk
Partition Wizard Server Edition: Support Windows Server 2003, 2008, 2008R2 and SBS
Partition Wizard Enterprise Edition: Commercial enterprise solution.
Partition Wizard Technician Edition: Designed for IT consulting firms and individuals.
About MiniTool Solution Ltd.:
MiniTool is a software company dedicated to data recovery and disk management software development. Today, MiniTool continues to lead the industry in innovation with its award-winning Partition Wizard application and Power Data Recovery application. For more information about MiniTool and Partition Wizard 7.5, please visit http://www.partitionwizard.com.