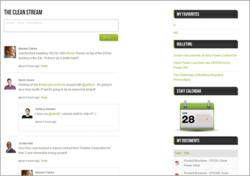 Social can be an incredibly powerful tool with the right strategy and the right technology
Sydney, Australia (PRWEB) July 24, 2012
Following on from a successful global launch, Elcom is proud to announce the availability of its latest release, elcomCMS 8.
Since their last release, Elcom has taken elcomCMS to a new level; this time to provide organizations with true corporate social content management functionality. With 15 years of experience building successful websites, intranets, portals and other web projects, Elcom recognized a gap in the market and has delivered a product that will allow organizations to take proven intranet and portal best-practice knowledge and combine it with innovative and powerful social capabilities.
elcomCMS 8 delivers new social capabilities which include:
Social Groups: Users can create groups and invite their connections to join the group. This enables collaboration targeted conversations around topic, projects or ideas.
Calendars: Calendar provides a powerful collaboration tool, which offers a project team visibility of all deadlines, milestones, activities and resource available. Calendars can be added to any page within a site.
Team Workspace: Users with the right permissions can create a Team Workspace for project specific communication and content. Users can add document lists, calendar, news stream, RSS feeds or any elcomCMS module to build a specific collaborative environment.
elcomCMS is a multifaceted platform, that can be hosted in a private or public cloud, and on or off premise. It provides organizations with the tools to manage their website, intranet, portal, mobile, eCommerce, training, online marketing and of course, social, all on a single platform. As well as the new social features found in elcomCMS 8, Elcom has also enhanced the user-experience through a new user interface, and added new features such as in-line editing, real-time search and integration with Objective, a powerful document and records management tool.
elcomCMS 8 is set to provide organizations with the ability to open up and significantly improve communication channels; offer a collaborative environment that will enhance performance and reduce operating costs; and facilitate a corporate culture in new and exciting ways.
Anthony Milner, Elcom's Product Director commented on the release "Organizations need control, security and flexibility in their platforms. Social can be an incredibly powerful tool with the right strategy and the right technology. The market is flooded with social platforms, but the question that we ask is -does that platform provide you with the ability to integrate and scale with your business requirements, or is it just a stand-alone social tool? We are incredibly excited about this release and we invite organizations to contact us to see a live-demo or to ask us questions."
Elcom believes that an integrated business platform provides organizations with the ability to leverage resources from across their organization, improving overall effectiveness and reducing costs. For example, social functionality such as 'news streams', 'connections' and 'Microblogging'; combined with intranet functionality such as 'document management', 'calendaring', 'resource management' and 'events management'; provides a powerful and engaging two-way project-driven or corporate collaborative environment.
To read more about elcomCMS 8, review screenshots or to arrange a 1-on-1 demo, visit the Elcom website here.
To find out more about Elcom please visit http://www.elcomCMS.com or contact Elcom on info(at)elcomCMS(dot)com.