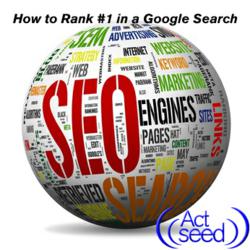 "Blog Distributor gets websites highly ranked in half the time that it takes everyone else. And those high rankings stay high. The difference is our quality obsession and our proprietary technology." (Bruce Chapman, CEO of Blog Distributor Inc.)
Orlando, FL (PRWEB) July 19, 2012
ActSeed has teamed up with Blog Distributor Inc. to help startups and small businesses move their web pages to the top of Google searches. Starting with a brief strategy session, entrepreneurs can learn the rules of "search engine optimization" and how to achieve a top rank within the rules.
"Being ranked #1 for a particular keyword search on Google is enormously beneficial," said Bill Attinger, CEO of ActSeed. "The first search result receives a click-through from 90% of the traffic. If you miss the first page, your click-through falls to less than 10%, and you receive almost no traffic if you are lower than that. Entrepreneurs and small business owners strive for visibility, and we believe Blog Distributor is an affordable game-changer for them as well as the PR and marketing firms that serve small businesses."
With five years of research and 20 patent claims, Blog Distributor Inc. has emerged as a powerful resource for startups and small businesses that want to boost their Google search rank. This service has helped companies that didn't even show up in the first dozen pages of search results (ranking lower than 120th) to reach #1 in as few as two months – for the cost of a couple ads in a local newspaper, but with far greater impact.
"Blog Distributor gets websites highly ranked in half the time that it takes everyone else. And those high rankings stay high," said Bruce Chapman, CEO of Blog Distributor. "Google is dropping the rankings of blogging networks that don't follow the rules. At the same time, Blog Distributor's clients continue to get amazingly good rankings in Google. The difference is our quality obsession and our proprietary technology."
About Blog Distributor
Blog Distributor uses a patent-pending technology to help web site owners improve their search engine ranking to the top spot or first page of results. The proprietary Recommendation Tool analyzes the top five websites in Google for each particular keyword/keyword phrase that is desired by the client and then compares to the client's web page for the same data to derive and execute an empirical strategy to achieve a top rank.
About ActSeed
ActSeed is a national online community for startups, early stage companies and small businesses. Since 2009, ActSeed has been helping thousands of entrepreneurs create jobs and build young companies by providing a proprietary "business blueprint" and connecting them to investors and business services that are critical for survival and growth. To learn more, please visit http://www.actseed.com.
If you would like more information about this topic or to arrange an interview with Bill Attinger, please send an email to media(at)actseed(dot)com.