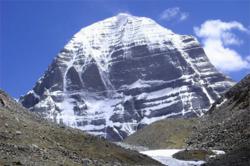 Lhasa, Tibet (PRWEB) July 19, 2012
Songtsan Travel is one of only two Tibetan travel agencies licensed to take Indian tour groups on the Mt. Kailash pilgrimage. They now offer a private tour of Mount Kailash and Lake Manasarovar for Indian pilgrims.
Mount Kailash rises to 22,028 feet in one of the highest and most rugged parts of the Himalayas. Made of black rock, the symmetrical peak has a distinctive diamond-like shape with four steep faces. The source of some of the longest rivers in Asia, Kailash is a sacred mountain for four faiths: Hindus, Buddhists, Jains and followers of the indigenous Tibetan religion of Bön. Next to the mountain are two sacred lakes, the most important of which is Lake Manasarovar.
The landscape around the mountain is rocky and dry, crossed by blue alpine streams. Near the sacred mountain is the source of the Indus, Sutlej and Bramaputra rivers and on its south side are two freshwater lakes, the easternmost of which is the highly sacred Lake Manasarovar (Mapam). With an altitude of 14,950 feet, Mansarovar is the highest body of fresh water in the world. The other lake, Rakshastal, also has legendary significance.
The distance to Mt. Kailash from Lhasa is approximately 2000 kilometers. Songtsan Travel will bring food and camping equipment, and make all necessary arrangement to make sure that travelers will have a pleasant and comfortable journey to these holy sites.
Songtsan Travel is a Lhasa-based tour operator with more than 20 years of experience leading Tibet tours. The agency uses part of its proceeds to provide education to disadvantaged children. Songtsan Travel seeks to promote Tibetan culture and help Tibetans improve their livelihood.