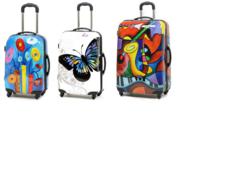 gorgeous range with unique and original prints
(PRWEB UK) 20 July 2012
Members luggage which is being sold on Luggagesupertore's online store, has a gorgeous range with unique and original prints titled "Butterfly", "Flowers" and "Music" which are sold in a 3 Piece set of sizes 55cm, 67cm and 77cm.
Just a few features of these cases include lightweight adjustable interlocking aluminium trolley system and strong hard shell construction. There is a plastic feet protect case when placed on its side to bring more security to one of the most vulnerable section of a luggage case.
The convenience of placing a top and side handle is appreciated for lifting and loading to your vehicle or airport trolleys. Interior mesh divider section and elasticated packing straps keep contents in place and a smooth 4-wheel spinner system for greater manoeuvrability. The luggage is PC (Polycarbonate) coated ABS (Acrylonitrile butadiene styrene) and comes with a great 3 Year Guarantee.
This full matching set includes your cabin size, so your luggage packed with style and good-looks, follows you all the way on the aircraft. "These cases make a bold, fun and unique statement and should be in the hands of any traveller who wants to brighten up their journey." says Marketing Executive, Trina Chee-a-kwai. If you want to stand out from the crowd, these cases are the ones to travel with you right to the end.
So, if you are bored with your general , everyday look luggage, it's time to step up and be bold and grab for this exciting and fun looking 3 piece set.
Luggagesuperstore established site is in West Kingsdown, Kent. Their aim is providing competitive prices of the highest quality luggage and top calibre Customer Service for online luggage shopping.
Trina Chee-a-kwai
Luggage Superstore
01474 854666
Email information