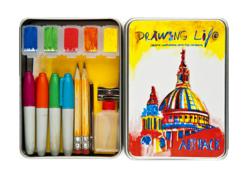 Drawing Life uses art to encourage integration, empower individuals, promote interaction and raise awareness of homelessness
(PRWEB UK) 19 July 2012
A recent graduate from Suffolk aims to diminish the taboo surrounding homelessness and break down negative stereotypes using a range of personal Art Packs and open air art therapy events in London.
Emily Boon Ying Tan, a recent Graphic Design graduate from University Campus Suffolk (UCS), is launching her 'Drawing Life' campaign to act as a catalyst for bringing the homeless and securely housed together.
The concept revolves around a series of open air art events and Art Packs that inspire homeless people to draw. The Art Pack is both an invitation to these events as well as being a personal pack that gives homeless people the opportunity to create art in their own time.
'Drawing Life' will aim to raise awareness of homelessness and empower participants using creativity, whilst encouraging collaboration with the securely housed and homeless people, acting as a stepping stone for social integration and interaction.
Emily has been presented with a 10,000 Euro grant and up to 5000kg of paper, by Sappi Fine Paper Europe - global paper producer, to make her initiative a reality. Emily received the grant as part of the 'Ideas that Matter' initiative created by Sappi to reward designers who wish to use their talents for positive social change.
An independent committee of leaders in the design industry awarded Emily's 'Drawing Life' initiative for its creativity, potential effectiveness and practicality.
Dirk Peremans, General Manager of the agency Proximity BBDO and one of the Sappi judges said about Emily's entry: "A strong insight: if people can create something of their own, if they are able to realise and deliver a finished work, they feel valuable. And that is precisely the objective of "Drawing Life". The strength of the approach lies in the attractiveness of the tools. By designing leaflets, a drawing box, in such a way that the message is immediately clear, makes people enthusiastic to participate in the initiative. A fresh example of the golden statement: 'the medium is the message'".
For the campaign, Emily will be partnering with The Big Issue - best known for delivering a magazine that is written by professional journalists and sold by homeless individuals. It has become one of the UK's leading social businesses with a structure that enables the homeless to earn a legitimate income, supporting reintegration into society.
John Bird, The Big Issue Co-Founder, said: "Drawing Life is creative, inspirational and very useful. I am pleased that Emily and The Big Issue have worked so well on this splendid project."
Emily will distribute the Art Packs throughout homeless communities in London to begin the process of promoting the upcoming events and encourage creative expression. T-shirts and jumpers will be available at these events, using an interactive element of customisation.
"Drawing Life uses art to encourage integration, empower individuals, promote interaction and raise awareness of homelessness", explained Emily. "Freeness of self-expression is at the heart of the campaign; art gives everyone a neutral common ground for this stepping stone towards positive change."
"I fully embraced The Big Issue's knowledge of homelessness and the sensitivities of this. The Big Issue share the same passions as myself; in giving homeless people the opportunity to be heard and to not be excluded from society."
She concluded, "I believe in Drawing Life and making it a reality was a case of getting others to believe in it too."
Emily initially formed the idea for 'Drawing Life' during her final project at UCS which looked to influence positive change in society by addressing the negative perception of homelessness.
Russell Walker, Course Leader for the BA (Hons) Graphic Design (Graphic Illustration) course at UCS, said: "Emily tackled her final Collaborative Project with amazing tenacity and creative passion. This was not just the culmination of her studies on the course, but the bringing together of all the skills and experiences that she had acquired over the last 3 years of her study. The creative results are outstanding, inspiring and life changing".
To follow the campaign, go to http://www.drawing-life.co.uk.