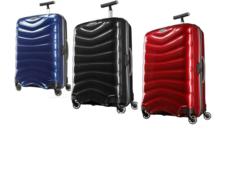 lightweight qualities and outstanding shock impact performance;
Kent (PRWEB UK) 21 July 2012
Luggage Superstore has brought to their customers the dynamic new collection Firelite which combines strength and ultra lightness. Inspired by extreme sports lifestyles, the Firelite shell is eye-catching, modern and effortlessly absorbs heavy shocks during travel. It brings with it dynamic colours which happens to be manufactured in Europe.
The Curv® material is known for its high energy absorption, lightweight qualities and outstanding shock impact performance; hence this material is used on sporting equipment where speed and lightness is essential. This collection offers excitement for the energetic traveller while smoothly moving along on its sporty silent wheels. Many more tempting features include the smoothly retractable lightweight pull handle, the water resistant PU coated zipper and of course for additional security there is the Transportation Security Administration (TSA) lock system.
World leading luggage brand Samsonite states: - "Not only is Firelite physically lightweight, it also stands out from the crowd with a strong visual statement made by the striking design and flashy colours."
This collection is definitely appealing to the vibrant traveller but certainly for anyone who is looking for strength, lightness and speed combined.
Luggagesuperstore established site is in West Kingsdown, Kent. Their aim is providing competitive prices of the highest quality luggage and top calibre Customer Service for online luggage shopping.
Trina Chee-a-kwai
Luggage Superstore
01474 854666
Email information