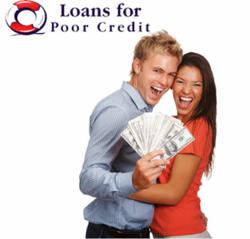 (PRWEB) July 22, 2012
LoansForPoorCredit.net shares some more recommendations with customers regarding short term loans.
The finance matching service has recently launched its online application for U.S. residents wanting fast finance. By applying, they can be instantly considered by a network of preferred lenders. In some cases, successful applicants may receive approval immediately and direct transfer of the loan funds into a checking account on the same day. The online application form is secure, short and confidential and benefits from also being free.
A spokesperson for LoansForPoorCredit.net made the announcement.
"As a part of our continued drive to add value within the bad credit loans sector, we would like to take this opportunity as a responsible and independent loan comparison service to reach out to customers with some more advice. The school holidays are here and many individuals and are families pushed to the limit to fund childcare, activities and cover daily household costs. With many competing financial demands and limited resources, many of us could all do with an extra helping hand to keep the bills paid and the fridge full."
The spokesperson continued, "With this in mind, we have created a convenient comparison platform on LoansForPoorCredit.net for those needing to consider various lenders for an online personal loan. Customers should feel empowered by our service and realize that they are in the driving seat to select a lender. We encourage them to follow some of our new recommendations."
LoansForPoorCredit.net gives the following recommendations to intending borrowers:
Recommendation #1: Avoid delays by having bank details to hand: In the case of a financial emergency requiring a personal loan that is available online, applicants should have a valid checking account and know all of the account paying-in details.
This is because an online loan company that approves an application will be paying the monies directly into a nominated bank account through an automated bank transfer payment. The lenders through the LoansForPoorCredit.net platform are poised to pay out within an hour following approval. Having bank details ready is essential to avoid delay. The service's website is secure and all lenders treat personal details with the utmost confidentiality.
Recommendation #2: Select with care to dodge credit checking: Many hold concerns about their credit score affecting the search for quick finance options. This is not a problem if borrowers select lenders with care. All of the lenders through the LoansForPoorCredit.net network are committed to being "credit check free." There are hundreds of lenders that are focused primarily on lending to consumers with troubled credit backgrounds. Cherry-picking these make for a smoother application experience and higher chance of approval. LoansForPoorCredit.net works exclusively with these lenders and channels online applications straight to them.
Recommendation #3: Local cash advance lenders only: Make sure that any loan company selected resides in the home state of the applicant. LoansForPoorCredit.net can put borrowers in touch with lenders in the applicant's home state to ensure full peace of mind and compliance with state laws.
To apply for a convenient loan, go to http://www.LoansForPoorCredit.net