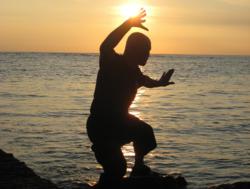 "It's like James Bond meets Bruce Lee meets Tony Robbins, I don't know how else to describe it."
San Francisco, CA (PRWEB) July 19, 2012
Warrior's Way Lifestyle, a leadership training company founded by a trainer of Navy SEALS and Secret Service, introduces the Warrior's Way Retreat, a 5 day intensive immersion into the Warrior's Way Lifestyle experience. The inaugural retreat will be held from September 26-30, 2012 and is based out of Disney's Aulani Resort, but will take place all over the island, near waterfalls, by secret beaches, in ancient temples, by volcanoes, and other natural wonders. Participants will experience the full spectrum of the Warrior's Way Lifestyle training, by engaging with the Navy SEAL fighting system, functional fitness, Tai-Chi and healing, applications of strategy through the study of Sun Tzu and Miyamoto Musashi, and coming face to face with fear by entering the cage in the shark dive experience.
The retreat is designed for non-martial artists and people of all fitness levels, and is particularly geared towards business leaders and executives to boost their performance. Harinder Singh, CEO of Warrior's Way Lifestyle, who will be conducting the retreat, said "This retreat is designed to make you experience and feel life from the warrior's perspective. It is an immersion into a 6 month program designed to improve every facet of your life. Connect with nature, make life-long friends, and raise your game to the next level." Although this will be the inaugural retreat, Warrior's Way Lifestyle will be conducting the retreats four times per year, and is able to conduct these retreats on a customized basis for private groups, or as a teambuilding exercise for corporations. Years of training with martial arts and fitness masters, as well as training elite military and intelligence operators and absorbing their life experiences, is distilled and imparted in this 5 day experience.
What makes this different from other extreme vacations is that the 5 day experience in Hawaii is only the beginning. Included in the cost of the retreat is a comprehensive life plan for self-mastery, custom created for each participant by Singh, to strategically bring their lives to peak performance using the same techniques taught to elite warriors and that have been implemented for major corporations. Warrior's Way also provides 6 months worth of monthly 1-on-1 and group coaching calls with Singh, so that no participant is left behind and all participants are able to implement the transformation they desire in their lives. The experience sticks with participants, and Warrior's Way guarantees the satisfaction of all participants with a money back guarantee, implying 0% financial risk.
Artem Boytsov, a product manager for Google who has trained with Singh, said this about the experience participants will gain from the Warrior's Way Retreat: "It's like James Bond meets Bruce Lee meets Tony Robbins, I don't know how else to describe it." The experience is designed to produce results in the core values of Warrior's Way, courage, confidence, strength, and strategy, by giving teaching participants how to win any fight, how to master functional fitness, breath, and posture, how to master perception and communication, and how to quiet the mind and face their fears.
About Warrior's Way Lifestyle: Warrior's Way Lifestyle is a leadership development and training organization based in Silicon Valley, providing specialized training in courage, confidence, strength, and strategy from a martial arts master and trainer of Navy SEALS, Secret Service, FBI, CIA, SWAT, professional athletes, and executives. Warrior's Way Lifestyle has three product areas: 1. Providing corporate training, seminars, and keynotes. 2. Producing experiential retreats where participants receive the full spectrum of training. 3. Private training and coaching for individuals. For more information, please visit http://warriorswaylifestyle.com.